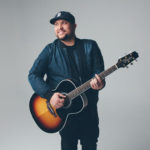 Different, the new full-length album from Micah Tyler, is coming on the heels of a fast year for Tyler with the No. 1 radio hit "Never Been A Moment" topping multiple Christian radio formats and a GMA Dove Award New Artist of the Year nod. Heralding the major release was the Texas-based singer, songwriter's six-track EP. Different will mark his first full-length record.
"Writing this record brought to the surface a lot of insecurities I've dealt with my entire life. Not feeling good enough. Psalm 139, David's praise of being uniquely created felt more like a punishment to me," Tyler says."I want my life to look 'different' because of the difference Jesus has made. I'm ultimately learning to embrace who God has called and created me to be: Micah."
A regular on the road, Tyler plays 200+ dates a year with mainstays such as MercyMe and more. He will join Big Daddy Weave and We Are Messengers for the west coast-focused Set Free Tour. For the latest touring information visit MicahTyler.com.
About Micah Tyler | Micah Tyler is a singer, songwriter and worship leader from Buna, Tex. signed to FairTrade Services. Playing 200+ dates a year, Tyler has toured with MercyMe, Big Daddy Weave, Hawk Nelson, Phil Wickham, Stars Go Dim and more. Tyler's newest EP Different (Nov. 2016) includes the hit single "Never Been A Moment" which topped multiple radio charts. Having served in staff ministry for over a decade, Tyler has a true love and respect for the local church. His newly-released, second single "Different" is also the title track from his upcoming album streeting on Oct. 20, 2017.