GRAMMY® acclaimed band to take part in "The Todd Starnes All-American Christmas" FOX News Radio special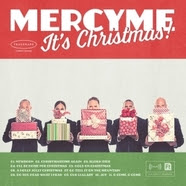 NASHVILLE, Tenn.—Fresh off their performance in the 89th Annual Macy's Thanksgiving Day Parade, MercyMe's newest holiday record, MercyMe, It's Christmas! is resonating with media nationwide. The New York Times noted their "sleek spin" on holiday carols as well as originals like "Christmastime Again." Partnering with PEOPLE Magazine for a free download of "Our Lullaby," the magazine showcased the song in their holiday playlist and included an interview with the band in support of the album in their widely popular PEOPLE Country issue. Celebrated radio personality Delilah also caught up with front man Bart Millard during the holiday season to air on her nationally syndicated radio program.
MercyMe will headline the 2015 Todd Starnes Fox News Radio Christmas special. The two-hour show will be filmed at Bellevue Baptist Church in Memphis, Tennessee on Dec. 9th. "The Todd Starnes All-American Christmas" will be broadcast the week of Christmas on hundreds of FOX News Radio stations along with KCBI in Dallas and the entire American Family Radio network and the Bott Radio Network. The show will also be broadcast on FoxNews.com and FoxNation.com. Late last month, MercyMe visited FOX & Friends in support of MercyMe, It's Christmas! To watch their performance, click here. Adding to the holiday mix, the multi-platinum selling band was also featured on the Sirius XM "MercyMe on The Message: It's Christmas!" special throughout Thanksgiving weekend.