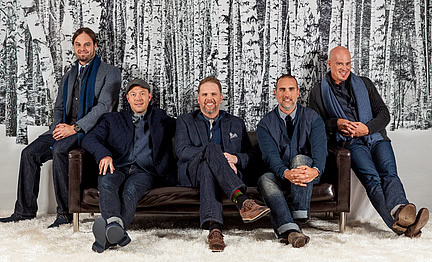 Nashville, Tenn (July 23, 2015) – GRAMMY® nominated band MercyMe has unveiled dates for their fall "Greater Than Tour," kicking off this October, as well as MercyMe, It's Christmas! set to debut on October 9. The album will mark the multi-platinum selling band's second Christmas release. The announcements were revealed in the midst of celebrating their second No. 1 hit, "Flawless," (Billboard's Christian AC Indicator chart) from the best-selling Welcome to the New project (2014).
Hitting a dozen cities this fall, with 27 No. 1 songs under their belt, MercyMe will have plenty to choose from when they bring a night of favorite hits to their audiences, while welcoming award winning artists Phil Wickham, Tim Timmons and speaker John Lynch (see tour routing below and click here for updates).
MercyMe has spent much of the summer recording MercyMe, It's Christmas! with producer Brown Bannister at the helm. Their last Christmas album, The Christmas Sessions (2005), was heralded as an instant classic and garnered them a spot on The Tonight Show as well as ABC's annual Disney Christmas Parade. MercyMe, It's Christmas! reinterprets classic holiday songs mixed with originals, soaring emotive ballads, fun, up-tempos tracks and original compositions.
Welcome To the New, the GRAMMY® and Billboard Music Award nominated project released in April 2014 and landed at No. 4 on the Billboard 200, becoming the highest new debut of the week. The album received rave reviews, gathering affirmation from USA Today, Rhapsody and more. The popularity of the initial single "Shake" led to a performance on NBC's TODAY Show and over 2 million music video views on several social platforms. The project's second single, "Greater" lived up to its name, spending 16 weeks at No. 1 on Christian radio.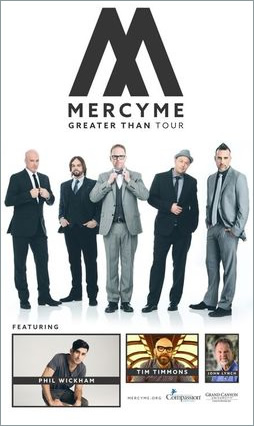 MercyMe Fall Tour Routing
(*all dates subject to change):
October 22 – Norfolk, VA (Constant Convocation Center)
October 23 – Baltimore, MD (Modell Performing Arts Center)
October 24 – Trenton, NJ (Sun National Bank Center)
October 29 – Raytown, MO (First Baptist Church of Raytown)
October 30 – Ralston, NE (Ralston Arena)
November 5 – TBA
November 6 – TBA
November 7 – Tallahassee, FL (Christian Heritage Church)
November 8 – Greenville, SC (Bon Secours Wellness Arena)
November 12 – Griffin, GA (Griffin First Assembly of God)
November 13 – Aiken, SC (Millbrook Baptist Church)
November 14 – Huntsville, AL (Von Braun Civic Center)
About MercyMe:
Since their debut in 2001, GRAMMY®-nominated, American Music Award and multiple Dove Award winners MercyMe have sold more than 8.5 million units in CD, single and DVD sales, garnered 27 No. 1 multi-format Christian radio singles and four consecutive mainstream radio hits with "I Can Only Imagine," (No. 4 AC/Top 25 on Top 40/Hot AC), "Here With Me" (No. 4 AC), "Homesick" (Top 10 AC), and "So Long Self." In 2009, Billboard named MercyMe's "Word Of God Speak" the No. 1 Song of The Decade and the group the No. 1 Christian Songs Artist of the Decade, with an additional No. 1 as the Christian AC Song Artist of The Decade as one of the industry's most notable talents. MercyMe made history as "I Can Only Imagine" surpassed 2 million digital downloads, making it the first song in Christian music to go platinum and double-platinum in the digital domain. MercyMe has sold out venues across the nation, including Radio City Music Hall, and has appeared on The Today Show, The Tonight Show with Jay Leno, CNN, Fox New Channel's Fox & Friends, ABC News, CBS This Morning and in the pages of Entertainment Weekly, The New York Times, USA Today, Billboard and more. Their eighth studio album, Welcome To The New, received two GRAMMY® nods and three Billboard Music Award nominations.
Get Connected with MercyMe:
Website // www.mercyme.org
Facebook // www.facebook.com/mercyme
Twitter // www.twitter.com/mercyme
iTunes// http://smarturl.it/MMNewiTunes
Amazon// http://smarturl.it/MMNewAmazon