Brighton, U.K. (April 12, 2019)
Integrity Music has officially announced May 10th as the release date for Martin Smith's upcoming album, Iron Lung. As the follow-up to last year's live recording, Love Song For A City, and his last studio recording, 2014's Back To The Start, the acclaimed worship artist, songwriter, and producer is ready to debut his highly anticipated and most personal album ever recorded.
"This record is about joy and wonder, and the grace to keep singing through the journey of life," Smith recently shared about the making of Iron Lung. "It's telling the story around my first breath as a child to the last breath of someone close to me. Iron Lung is a celebration of life, love, and faith."
As a child, Smith was diagnosed with a serious case of bronchial pneumonia, which became so life and death that he was literally placed in an oxygen tent similar to an 'iron lung.' As the medical device kept him alive, Smith's faith-filled parents prayed that if God would "let him make a noise," they would give their son back to Him and dedicate him to His service. The profound experience of their pain and turmoil heavily influenced Smith to title the album Iron Lung, as did the unexpected death of Smith's mother-in-law during the making of the album. His family's sudden loss deeply affected the recording of his vocals, as he poured out his heart as the lyrics were brought to life. The ten songs found on Iron Lung each declare that through trying times breath can feel heavy and immensely painful, but that joy and wonder can and will be found in the end.
Iron Lung was produced by Gabriel Wilson (Bethel Music, John Mark McMillan). "Working with Martin Smith was, for me, the highest honor," Wilson says. "Martin's desire to dive deep and write from a place he's never written before was truly an inspiration. His trust in me to capture the stories and sounds of Iron Lung is humbling, to say the least."
The title track, "Iron Lung," makes its debut today to all digital sales and streaming platforms.
Watch the video for "Iron Lung" here:

"And I heard the sound of Your voice
I felt the breath in my lungs
I felt the joy in my bones
And I started to sing, I started to sing
I felt the wonder of love
I knew the kindness of God
I joined with the angels above
And I started to sing, I started to sing for You
Forever I'll sing, forever I'll sing for You"
"Iron Lung" was written by: Martin Smith
© 2019 exclusively published by Gloworks Publishing Limited c/o Bucks Music Group Limited (PRS)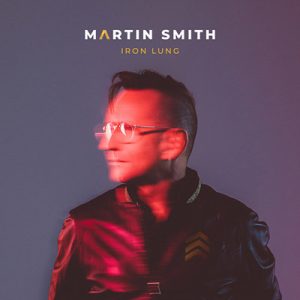 Iron Lung track listing:
Iron Lung
Great & Glorious
Everybody is Broken
Exalt
Rise Up
Runaway
Fire's Gonna Fall
Wonder Hearts
Always Be My Love
Give Thanks For A Broken Heart