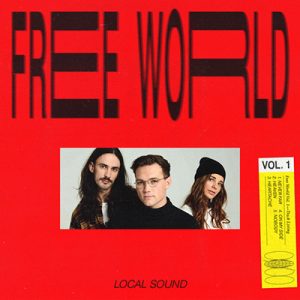 Nashville, TN (April 18, 2019)
Integrity Music announces the release of Local Sound's EP, The Free World, Vol. 1, available today. Encompassing five songs, the first song to debut, "Nobody," released last September. The Free World, Vol. 1 is the follow-up to their independent EP from 2017.
Founded and led by Jared Runion, Local Sound, which also includes Garrett Tyler and Emily Wyant, grew out of the Nashville college and young adult ministry MyLocal615 and sees itself as culture creators who support the work of the local church in the lives of young adults.
"The 'Local' within Local Sound speaks to the roots of who we are and why we do what we do," Runion has previously publicized. "We fully back God's dream of the local church and we believe that God, the original culture creator, has designed the local church as 'Plan A' – to immerse the world in His culture. We were never intended to be the products of temporary culture. We were made to be distributors of an eternal one."
"The 'Sound' portion of our name is a reflection of our heart and our passion to unite the Word of God with high energy, innovative music that reaches the world," he adds. "We believe we have been called to spread the Gospel through relevant and inspiring message-driven songs that express the joy found in a life fully devoted to Christ and the realization of the deep love that the Shepherd has for us."
To date, Local Sound has toured with the likes of Mosaic MSC, Cody Carnes, and Mack Brock, and plans are underway for further tour dates this year.
For more information visit www.LocalSoundBand.com