TWO-TIME GRAMMY® AWARD WINNER LECRAE ANNOUNCES 2016 HIGHER
LEARNING COLLEGE TOUR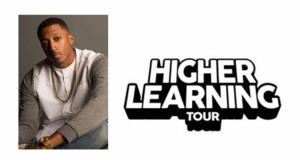 NASHVILLE, Tenn.—LECRAE is heading back to school in 2016. The two-time GRAMMY® Award-winning hip-hop artist, known for his music message frequently at odds with his hip-hop peers, has fans buzzing with excitement at the announcement that he'll be hitting the road on February 9, 2016 for his Higher Learning Tour stopping at college campuses and in college towns across the country.
"This tour allows me to be involved and inspire some of the most impactful and influential leaders of tomorrow," said Lecrae. "College is where many of the world-changing thoughts and ideas are birthed. I want my music and my message to help inspire those ideas."
The Higher Learning Tour will make stops throughout North America, including New York, California, Texas, Georgia, Canada and more.
The influential rapper and hit-maker continues to score big on the charts and in the industry. Lecrae has sold 1.7 million albums to date, including more than 325,000 copies of Anomaly, his latest No. 1 debut on the Billboard 200 Album Chart that also landed at No. 1 on other Billboard charts including Digital Album, Rap Album, Christian Album and Gospel Album charts. Last year at the GRAMMY® Awards, he was nominated for the coveted Best Rap Performance alongside Drake, Eminem, Childish Gambino and Kendrick Lamar.
Lecrae has been praised by mainstream and hip-hop press alike with features in Time Magazine, Entertainment Weekly, XXL, Essence Magazine, BILLBOARD and Vibe Magazine, among others. Radio personality and MTV News Executive Producer Sway Calloway proclaimed Lecrae's music as the "Evolution of Hip-Hop." He's performed on The Tonight Show with Jimmy Fallon, BET Network's Hip Hop Awards, the BET Experience, was featured on Statik Selektah's mixtape, toured with the famed "Rock The Bells Tour" and released a mixtape that soared to double platinum status on Datpiff garnering more than 500,000 downloads.
The Higher Learning Tour goes on sale this Friday, January 15, 2016. Featuring special guest DJ Promote, and on selected dates, Propaganda, Swoope and Liz Vice, the Higher Learning Tour kicks off in Amarillo, Texas on February 9, 2016. VIP tickets are available.
Check out the Higher Learning Tour schedule here:
Feb. 9 –
Amarillo, TX, Amarillo Civic Center
Feb. 10
– Lubbock, TX, City Bank Auditorium at Texas Tech University
Feb. 11
– Abilene, TX, Moody Coliseum
Feb. 12
– Longview, TX, LeTourneau University Belcher Center
Feb. 14
– Wichita Falls, TX, MPEC Memorial Auditorium
Feb. 19
– Wheaton, IL, Wheaton College
Mar. 2
– Mobile, AL, Saenger Theatre
Mar. 3
– Albany, GA, Albany Civic Center Arena
Mar. 4
– Augusta, GA, Bell Auditorium
Mar. 11
– Wayne, PA, Eastern University
Mar. 13
– Reading, PA, Santander Performing Arts Center
Mar. 14
– Toronto, CAN, Canada Christian College
Mar. 17
– Springfield, MA, Mass Mutual Center
Mar. 18
– Trenton, NJ, Sun National Bank Center
Mar. 19
– Petersburg, VA, Virginia State University
Mar. 20
–  Elmira, NY, First Arena
Mar. 30
– Tucson, AZ, Rialto Theatre
Mar. 31
– Phoenix, AZ, Grand Canyon University
Apr.1
– Santa Barbara, CA, Westmont College
Apr. 2
– Bakersfield, CA, California State University
Apr. 3
– La Mirada, CA, Biola University
Apr. 7
– Toccoa Falls, GA, Toccoa Falls College
Apr. 8 –
Tallahassee, FL, Donald L. Tucker County Civic Center
Apr. 10
– Fayetteville, NC, Crown Coliseum
Apr. 13
– Springfield, MO, Evangel University
Apr. 14
– Siloam Springs, AR, John Brown University
Apr. 17
– Peoria, IL, Bradley University Renaissance Coliseum
Apr. 20
– Knoxville, TN, Knoxville Civic Auditorium
Apr. 22
– Winona Lake, IN, Manahan Orthopaedic Capital Center
Apr. 23
– Spring Arbor, MI, Spring Arbor University