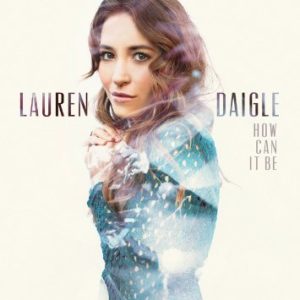 LOS ANGELES, Calif.—Lauren Daigle, Centricity Music artist, took home "Top Christian Album" for How Can It Be at the 2016 Billboard Music Awards held at T-Mobile Arena on May 22, 2016 in Las Vegas. Facing competition from fellow artists TobyMac (This Is Not A Test), Joey + Rory (Hymns That Are Important To Us), Chris Tomlin (Adore: Christmas Songs of Worship), and Hillsong United (Empires), Daigle was also nominated for "Top Christian Artist" along with Casting Crowns, MercyMe, Chris Tomlin, and the winners, Hillsong United.
"Music is changing my life more and more each day," says Daigle. "I'm recognizing the value in being able to communicate through a language that every human on the planet can experience in some form. It's such an honor to see the response of those who have listened and connected with the sounds. Seeing this transfer of communication is priceless. Thank you, Billboard, for allowing the opportunity!"
Billboard Music Awards are based on key fan interactions with music, including album and digital songs sales, radio airplay, streaming, touring and social interactions on Facebook, Twitter, Instagram, YouTube, Spotify and other popular online destinations for music. These measurements are tracked year-round by Billboard and its data partners, including Nielsen Music and Next Big Sound. Since 1940, the Billboard charts have been the go-to guide for ranking the popularity of songs and albums, and are the ultimate measure of a musician's success.
Daigle received her first GRAMMY® nomination earlier this year for "Best Contemporary Christian Music Album" at the 58th GRAMMY® Awards and has steadily positioned herself at the top of the charts. She was recently honored with three nominations for the 4th Annual K-LOVE Fan Awards, including "Artist of the Year," "Female Artist of the Year," and "Song of the Year" for her No. 1 hit, "First."
Her debut full-length album How Can It Be, has logged more than five weeks at #1 on Billboard's Top Christian Albums chart, and debuted in the Top 30 on the Billboard 200. Her singles "How Can It Be" and "First" both reached #1 on the iTunes Christian Songs Chart and #1 on the Christian Digital Tracks Chart with "First" also reaching #1 on the NCA radio chart.
"Trust in You," which earned Daigle her first No. 1 single spot on Billboard's Hot Christian Songs chart in March, continues to hold its top spot for 10 consecutive weeks, while also remaining in the #1 position on the NCA radio chart for nine consecutive weeks. The song currently holds the #1 position on the iTunes Christian Songs Chart and the Christian Digital Tracks Chart.
In addition to this year's Billboard Music Awards, GRAMMY® and K-LOVE Fan Awards honors, Daigle has won three Dove Awards (nominated for four)—"New Artist of the Year," "Song of the Year" ("How Can It Be") and "Pop Contemporary Album of the Year" and won the 2015 K-LOVE Fan Award for "Worship Song of the Year" ("How Can It Be"). Her debut album reached #1 on the iTunes Christian Gospel Top Albums Chart with more than 320,500 album sales and 813,000 track sales, positioning Daigle as the fastest-selling new artist in Contemporary Christian music in the past decade.
She has had over 76 million YouTube and Vevo views, with approximately 250,000 subscribers. For "How Can It Be" alone, she has had more than 15 million views.
New for 2016, Centricity Music recently released the highly-anticipated deluxe edition of Daigle's debut project titled How Can It Be Deluxe Edition (May 6). In support of the new album, Daigle is currently a featured performer on the Hillsong UNITED Empires Tour.