Nashville, Tenn. — The anticipation is building as Lauren Daigle's first full album, How Can It Be, releases April 14th. In support of the new project, Daigle flew to New York City to record several songs from the new album exclusively for SiriusXM and the national network will air these performances and other songs from the new album hourly on release day. While in the northeast, Daigle visited Star 99 in New Jersey where she performed a few songs and did a Q&A with about 60 lucky listeners. From there, Daigle did a standing room only pop-up concert for WRBS in Baltimore, MD, and then filmed a live performance video for WGTS in Washington, DC, before playing for the staff.
"It's been a pleasure and a blessing to get to know Lauren through her music that we play on The Message, but it was even more impactful to actually see her perform in person," states Al Skop, Program Director, Host of The Message, SiriusXM. "What a powerful voice with such a convicting message for our listeners! We can't wait to share these exclusive performances with the world."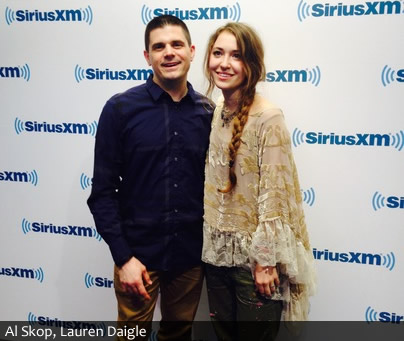 Daigle's talent has been compared to Adele and Amy Winehouse and continues to resonate with fans, as the title track is No. 7 on Billboard's NCA Chart and No. 9 on AC Monitored. At the same time, the performance video for the song is over 2,300,000 views. With early pre-sales since last Tuesday, How Can It Be is already No. 7 on Billboard's Album Chart and this will mark the first time that Daigle's project will be sold at all music retail outlets. The 5-song EP last year was only available at online music outlets.
Fans across the country are responding to Daigle's live performances on Big Daddy Weave's Beautiful Offerings Tour, which also features labelmate, Jason Gray. During street week of the new album, Daigle will team with another labelmate, Jared Anderson, for several radio sponsored concerts that include Atlanta/The Fish (11th); Birmingham, Ala./WDJC (13th); Monroe, La./KBMQ (14th) and Dallas/KCBI (15th).
For continued updates about Daigle's new album and tour information please visit online at www.laurendaigle.com, www.facebook.com/laurendaiglemusic, and www.twitter.com/lauren_daigle