Worship leader and recording artist Laura Story's life took an unexpected turn when her husband, Martin, was diagnosed with a brain tumor. Over the past decade, they have faced the logistical challenge of living life with disabilities resulting from Martin's brain injury but have also wrestled with the deeper challenge of understanding why a good God would allow such pain and confusion in their lives. And yet, Laura has found joy and a deeper intimacy with Jesus through this and other broken dreams.
Laura imparts lessons learned from this difficult time in an upcoming book, titled, When God Doesn't Fix It: Lessons You Never Wanted to Learn, Truths You Can't Live Without. In it, Laura shares how she learned that God may not fix everything. In fact, your situation might never change or get better, but you can get better regardless of your situation.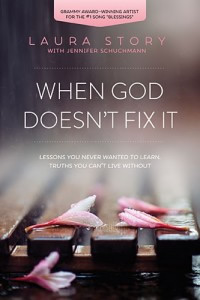 "It's been an honor to get to know and to work with Laura, the woman behind the songs that have touched so many of our hearts," says Debbie Wickwire, Senior Acquisitions Editor for W Publishing Group. "She is just like her music — honest, real, and deeply inspirational. I can't wait for you to read her story and to learn the secrets that have sustained her through her own many life challenges."
Kathryn Helmers of Creative Trust represents Laura Story's literary interests. Laura's new single "Till I Met You" (Fairtrade Services) will release to radio on May 15 and currently is available on iTunes.
Laura Story is a Bible teacher, worship leader, GRAMMY award-winning singer/songwriter, and best-selling author. "Blessings" was certified GOLD in 2011 and inspired her first book, "What If Your Blessings Come Through Raindrops?" Laura's music and writing show God's love and grace intersecting with real life and serve as a reminder that despite questions or circumstances, He is the ultimate author of our story. Laura and her husband welcomed twin boys Ben and Griffin last September joining 2 and a half-year-old big sister Josie. Laura lives with her family in Atlanta, Georgia, where she serves at Perimeter Church as a worship leader.