Nashville, TN (April 5, 2019)
Rock & Roll Hall Of Fame inductee and Journey member Jonathan Cain globally releases his fourth new solo Christian music album in as many years, More Like Jesus, May 3 from Identity Records with The Fuel Music distribution.
"With Journey planning a relatively light 2019, Jonathan Cain is keeping the faith with his latest solo album More Like Jesus…The 'Don't Stop Believin'' (and many more) co-writer embraced faith-based music with 2016's What God Wants To Hear and released a Christmas album, Unsung Noel, the following year," says award-winning music journalist Gary Graff in Billboard.
"These days that's what I'm writing, and I'm having a blast with it," shares Cain in the story. "I'm recording in my new studio and I get to play with the A-list players in Nashville…I'm just writing all the time, y'know—for Journey, too, but this thing with worship music is really fun. It's another gig that I don't get burned out on, and I have a lot of energy I can offer when I come back to Journey."
Last month, Cain released More Like Jesus' title track as the first lyric video and single to digital retailers and streaming outlets internationally. Following its release, "More Like Jesus" was immediately dubbed a "Hot Track" by iTunes and was added to multiple Spotify playlists, including New Music Friday Christian.
Watch it here:

Written in response to Cain asking himself what he should pray for and what would be his ultimate New Year's resolution in 2018, "More Like Jesus" became his personal anthem that helped carry him through a huge, 58-city arena/stadium tour with Journey that played to over one million people last year. An integral part to one of the most popular American rock bands of all time, Cain is intent on "walking his life out more in the mind of Christ."
Writing all the songs and recording and producing More Like Jesus in his state-of-the-art Addiction Sound Studios in Nashville with engineer David Kalmusky, known for his work on multiple Platinum albums, Cain's new album features 65-minutes of music. Songs like "Now Unto Him" and "Tell Your Mountain" have already become worship favorites at New Destiny Christian Center in Orlando, FL, where he leads worship and his wife, Paula White, is the Senior Pastor.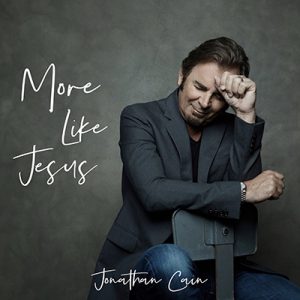 The full More Like Jesus track listing follows:
01) Unleashed
02) More Like Jesus
03) Now Unto Him
04) Tell Your Mountain
05) Kingdom Come Down
06) Love Carries The Cross
07) Beautiful In Every Way
08) Only In The Arms
09) Alive
10) Unshaken
11) Already Victorious
12) Take These Ashes
13) Better Man
14) Remove Every Veil
15) For He Has Risen