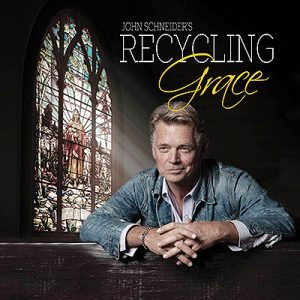 Nashville, TN (September 9, 2019)
After releasing an astonishing 72 songs in 2018, John Schneider returns with some of the most personal recordings of his career with the new inspirational album, Recycling Grace. Schneider enlisted stunning guest vocals from Christian Davis, Cody McCarver, Jacob Lyda and J Edwards. The 11-track studio album will be available at all digital retailers on September 15th.
The last five years have been nothing less than challenging for Schneider. Historic floods destroyed his home and movie studio complex in Holden, Louisiana not once but twice, and a five-year long divorce battle made frequent tabloid headlines before a settlement earlier this summer. So it should surprise no one that Schneider decided to record a deep and personal collection of songs for his latest project.
"Recycling Grace is jam packed with a few standards, but also new songs whose intention is to make you think and feel something," says Schneider. "The music itself is intentionally more raw, bluesy and edgy. I believe these inspirational songs especially should elicit some sort of physical reaction from the listener. These will do that for sure!"
Recycling Grace marks a turning point for Schneider, who is looking ahead to the future with no intention of slowing down any time soon. He wrote, directed and stars in an upcoming holiday film, Christmas Cars, continues to tour heavily, and is planning next year's 3rd annual Bo's Extravaganza event at John Schneider Studios. Nearly 10,000 attendees descended on Holden, Louisiana for this year's event, which included celebrity appearances, carnival rides, car stunts, helicopter rides, a hood slide contest, fireworks, performances by Schneider and Kid Rock and much more.
With over a dozen albums to his credit and 4 #1 singles on the Billboard Country Chart, Schneider returned to country music in 2018 with The Odyssey, an ambitious 52-song project. He also recorded Greatest Hits…Still, which features all new acoustic recordings of his biggest hits, and the holiday EP, Merry Christmas Baby.
Visit: www.JohnSchneiderStudios.com