Releasing on August 21, 2015, JJ Heller's new record, Sound of a Living Heart, is now available for pre-order from iTunes and her webstore is selling autographed CDs for $9.99 (33% off retail). Get her song, "Father-Daughter Dance," as a digital download after you place your order.
For JJ Heller, every album is a bit like a yearbook. Each new collection of songs is an accumulation of real experiences and stories gathered along the way. Heller's next release, Sound of a Living Heart, was brought to life under the production of Jonny Macintosh (Third Day, Lead Us Back). The 11 brand-new songs describing the pursuit of a whole-hearted life, is like a well-textured story, inviting the listener into a deeper journey that continues long after the final song ends.
Within each of us resides a story waiting to be told as we journey toward our most authentic and fulfilled life. JJ Heller's new offering might just be the perfect soundtrack for the one you're telling.
What follows is seamless exploration of Heller's artistic range including pop­-infused tracks, familiar folk melodies (you might recognize This Year and Meant to Be which already garnered immediate and widespread attention with millions of listeners through JJ's social media presence), as well as soaring power ballads, a gospel-­‐inspired tune, and a heartrending story-­‐song that features the vocals of Sanctus Real frontman, Mat Hammit.
Although Sound of a Living Heart reaches into some fresh sonic territory, long-­‐:me listeners of Heller's music will recognize the signature writing style of JJ and her songwriting/performing partner and husband, Dave Heller. Together they meld honest lyrics and a vulnerability in their own trademark style.
"I'm a recovering perfectionist," Heller says with a laugh, "but I'm learning to press into the discomfort and messiness of life. I know I'm going to make mistakes and experience pain, but God is always there to put the pieces back together." Sound of a Living Heart is JJ's invitation to journey with her through life's less-than-­perfect times.
"I went through a season a few years ago where I experienced a lot of suffering. Not only did that :me inform the songs on this record, but I think it also helped me discover more about being whole than if those painful experiences had never happened. I'm learning that joy is not dependent on my present circumstances, and hope is always available if we have eyes to see it."
Sound of a Living Heart will be in stores and online starting August 21.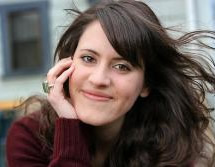 About JJ Heller:
Long before JJ Heller and her husband, Dave, welcomed their two beautiful daughters into the world, the couple — full-time independent musicians for 12 years now — were already writing songs for their children. Each of JJ's six full-length albums includes at least one or two of these quiet and sweet songs. Recently, JJ's devoted fanbase began asking her to consolidate the songs on one record. As an artist, she's very in touch with her following. And she chose to honor their wishes with an exquisitely crafted collection of lullabies called I Dream of You. Now her latest album, Sound of A Living Heart, has a wholly original vision with universal appeal.
Get connected with JJ Heller at http://www.jjheller.com/