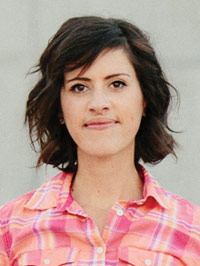 One of indie music's most celebrated singer-songwriters, JJ Heller has long been counted on for delivering thoughtfully created pop tunes to her legions of listeners. But over the last month, the musical wife and mom of two can also be counted on to deliver music into the hands and hearts of thousands of children and families experiencing health challenges through her current Kickstarter campaign, matching fans' funding for her first full-length Christmas recording, Unto Us, with a donation of her Dove-nominated lullaby record, I Dream Of You, to local hospitals around the country.
Here Heller answers our questions about her creative humanitarianism and the Christmas record-to-be. And remember: the clock is ticking on the singer's philanthropic campaign, with a deadline of this Saturday, August 20, 5:00 p.m. CST. So visit jjheller.com/kickstarter to pre-buy Heller's first holiday record while giving the gift of music to families looking for hope. Sounds a lot like Christmas, if I do say so myself.
CCM: What have you been up to this summer?
JJ Heller: I've spent the past several months working on a new Christmas project called Unto Us, that I can't wait to get into the homes of my listeners! Christmas memories are tied so strongly to the music we listen to in December, and I don't take that responsibility lightly.
CCM: In the spirit of 'ol St. Nicholas, I hear you instigated your own unique way to give a little by donating your music in a meaningful way through a Kickstarter campaign. How did that come about?
JJ: I made a lullaby album called I Dream Of You (buy) in 2014. Over the past few years, my fans began telling me how the songs played an important role during their time in NICUs and children's hospitals with their children.
A listener recently wrote in and said, "My daughter was in the NICU for a week after she was born. For the first few weeks, your music was the only music she would fall asleep to, or just lay and listen to. It always calmed her, like magic! I've loved hearing my husband sing these songs to her (makes my heart a puddle!), and the lyrics of some have given me peace and really encouraged me through our first few weeks as new parents."
Letters like this gave me the idea to donate music to patients and families in hospital environments, so I decided to partner with my fans to do just that. For every fifteen dollars we raise in the Kickstarter campaign, I'm giving a copy of I Dream Of You to a hospital. So far, there are nearly 4,000 CDs marked for donation!
CCM: Did you expect I Dream Of You to have such a meaningful purpose when you made it?
JJ: Not at all! I just wanted to make some beautiful songs and sing truth over children at bedtime. It was actually very freeing to make a lullaby album since I knew there was not hope of these songs landing on the radio. It gave me the freedom to slow down and enjoy songwriting for it's own sake.
I love knowing that even before the album was released, the Lord already knew how the music would calm children and encourage parents in very specific ways that I never could have anticipated. His dreams for us are often so much bigger than the ones we have for ourselves.
CCM: Will your Christmas album have a similar feel to I Dream Of You?
JJ: There are some very soothing songs on the album, but I think Christmas music has a special charm of its own. I know when I listen to music at Christmastime, I want to hear songs that I'm already familiar with. I intentionally only put three original songs on Unto Us because I assume my listeners are like me and want to experience a bit of nostalgia and whimsy in December.
There's something special about this project that has completely exceeded my expectations. It's such a beautiful collection of songs. I feel like it's my Christmas gift to my fans!