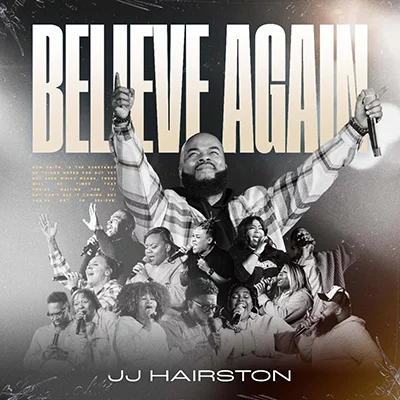 Atlanta, GA (September 30, 2022)
TRIBL Records in partnership with JamesTown Music has announced the release of the new album BELIEVE AGAIN, from GRAMMY-nominated, multiple Stellar Award winner, Billboard Music Award-winning Gospel artist, JJ Hairston. Hairston returns to the top of the Billboard Gospel Chart after being named one of the Top Gospel Artists of the Decade, with his current single, "Thankful." JJ is reminding people how awesome God is with his new album BELIEVE AGAIN.
BELIEVE AGAIN is the first project JJ Hairston has completed since being installed as the Senior Pastor of All Nations Worship Assembly DC. "Previously, my creative process evolved from the worship perspective. Although I am still a worshiper, as a Pastor, I teach more. Now, each musical project starts with a thought or a scripture. I spend a great deal of time thinking about what I want people to get from each song," shares Hairston. BELIEVE AGAIN features stand-out collaborations with Nicole Mincey, Benita Jones, David Wilford, Kymberli Joye, Travis Greene, Tamela Hairston, Mav City Gospel Choir, Donishisa Ballard, Marc Britt, Juanita Contee and Vincent McNatt. BELIEVE AGAIN's first single, "Thankful" is currently top ten on the Billboard National Gospel Airplay Chart.
Although listeners will hear the JJ Hairston sound they have come to love, BELIEVE AGAIN is uniquely eclectic. The album features divinely inspired, highly gifted co-writers and collaborators who bring a new element to the familiar sound. The album reminds people to focus on what God said, not the world's chatter. "Faith is a choice, and we hope the album will inspire people to choose God," shares JJ Hairston.
YouTube Album Playlist:

Spotify Album Playlist:

BELIEVE AGAIN track list:
Opening Prayer (feat. Nicole Mincey)
That Great Name (feat. Benita Jones)
It Shall Be Done (feat. David Wilford)
Miracle is You (feat. Kymberli Joye)
Miracle is You (Reprise) [feat. Travis Greene]
You Won't Change (Yahweh The Same) [feat. Tamela Hairston & Mav City Gospel Choir]
Bigger (feat. Travis Greene & Donishisa Ballard)
Bigger (Reprise) [feat. Donishisa Ballard]
Glory Hallelujah (feat. Marc Britt & Juanita Contee & Mav City Gospel Choir)
You Will Never Fail (feat. Vincent McNatt & Mav City Gospel Choir)
Thankful