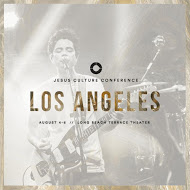 HIGH POINT, North Carolina—Jesus Culture invites a generation of revivalists to gather this summer at the annual Jesus Culture Conference in Los Angeles at the Long Beach Terrace Theater August 4-6, 2016. The gathering will seek the Lord through passionate worship and preaching featuring speakers John Gray, Lisa Bevere, Banning Liebscher, Jeremy Johnson, and Nathan Edwardson. Worship music will be led by Jesus Culture Artists, Kim Walker-Smith, Chris Quilala, Bryan and Katie Torwalt, and Chris McClarney. Registration for the Jesus Culture Conference opens February 5, 2016.
"Every year we are in Southern California, God does something significant in our midst," said Banning Liebscher, director of Jesus Culture. "Last year was one of the most impactful gatherings I have ever been a part of and each year the momentum seems to build. There is something about the Los Angeles area and Jesus Culture. God moves incredibly when we're down there and I can't wait to see what happens this summer."
The Jesus Culture Conference is a 3-day event consisting of worship, preaching and interactive teaching sessions and lunch and dinner breaks. At the Jesus Culture Conference, the mandate is simple: to raise, equip, and mobilize those who are coming to fulfill the call of God on their lives and see campuses, cities and nations transformed. 
To register for Jesus Culture Conference, visit www.premierproductions.com.