NASHVILLE, TENN – Jesus Culture worship leader Kristene DiMarco is set to release her new worship album, Mighty, on July 31. Recorded live earlier this year in Redding, CA, Mighty is DiMarco's first album release with Jesus Culture Music's partnership with Capitol Christian Music Group.
Featuring 11 original worship songs, Mighty showcases DiMarco's songwriting, which comes from a place that carries the message of hope, trust, and the power of God through all circumstances. With each song inspired by her admiration of hymns, DiMarco combines string melodies, a choir, and her passionate lyrics to create her most powerful worship album to date.
"Mighty is a collection of songs intended to release the empowering comfort of the Holy Spirit to those broken-hearted or disappointed," DiMarco shares. "I wanted to write songs that were statements of faith that encouraged people to choose to be overcomers when the temptation to remain a victim can be overwhelming. These songs were written for anyone who needs strength, comfort in loss, or just a reminder of the reality and might of the God we serve."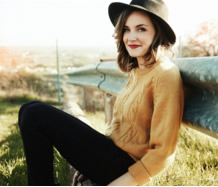 Leading up to the release of Mighty, DiMarco will release a series of four live music videos that will drop over the next several weeks, starting with the single "I Will Follow You." (See below)
DiMarco has been featured on Jesus Culture's album Awakening: Live From Chicago, as well as releasing her own music Those Who Dream (2008) and Safe Place (2012). DiMarco wrote and performed "It Is Well," which was featured on Billboard's Top 50 Hot Christian Songs chart.
Watch Kristene DiMarco perform "I Will Follow You" live here…
MIGHTY Track Listing:
1. Jesus, Your Love
2. Eyes On You
3. Be Still
4. Mighty
5. I Will Follow You
6. It Is Well
7. Song of Your Love
8. Carry Me
9. Lily's Song (Praise The Lord)
10. Wonderful
11. Over And Over
About Jesus Culture Music:
Jesus Culture Music is Sacramento, CA-based and led by Senior Team Director Banning Liebscher. Jesus Culture was formed through the momentum of a movement that is focused on equipping a generation to transform society by bringing people into an encounter with God's love through worship and discipleship. Jesus Culture Music albums capture the heart of this movement. Jesus Culture Music has sold more than one million albums worldwide since their debut project in 2005 and garnered more than 3.8 million followers on social media and over 34.5 million views on YouTube.
Jesus Culture Music is a label that contains 12 artists including: Jesus Culture Band, Kim Walker-Smith, Bryan and Katie Torwalt, Chris Quilala, Kristene DiMarco, Derek Johnson, Justin Jarvis, Andrew and Mary Kat Ehrenzeller, Chris McClarney, Skyler Smith and Josh and Amberly Klinkenberg. To date, the Jesus Culture Band has recorded ten albums and released a total of 25 projects on their music label. The latest release from Jesus Culture Band, Unstoppable Love, climbed to No. 2 on the iTunes overall chart and debuted at No. 25 on the Billboard Top 200 chart and No. 1 on the overall Top Christian/Gospel Albums Billboard retail chart.
CONNECT WITH KRISTENE DIMARCO…
Website: http://jesusculture.com/artists/kristene-dimarco/
Facebook: https://www.facebook.com/kristene.dimarco
Twitter: https://twitter.com/kristeneeliza
Instagram: https://instagram.com/kristenedimarco/