I'm Possible: Jumping into Fear and Discovering a Life of Purpose
How a boy who failed at almost everything learned to believe that "All things are possible through Christ"
Nashville, TN (March 1, 2019)
"All things are possible through Christ who strengthens you." As a child, Jeremy Cowart did not believe this. Growing up in Hendersonville TN, Cowart constantly struggled in every academic subject in school. He was underwhelming, self-critical, and self-conscious. He never could have imagined that one day he'd be photographing fellow Hendersonville resident, Taylor Swift, or other celebrities such as the Kardashians, President Obama, Sting, Heidi Klum, Kelly Clarkson, Emma Stone, Britney Spears, Gwyneth Paltrow and even Pope Francis.
Cowart's upcoming memoir, I'm Possible: Jumping into Fear and Discovering a Life of Purpose (W Publishing, 4/16/19), shares his incredible journey, from his painful academic struggles as a child, to discovering his God-given talent of photography and becoming the "most influential photographer on the internet," to his transformation into living a life of a humanitarian serving others in need around the world.
I'm Possible inspires readers to believe that they too, can live a life of purpose. Cowart's story shows us that by truly listening to the little messages from God, and by pushing through the fear and doubt, we will be on the right path. "If we take the messages to heart, if we act on them, we might discover what it looks like to collaborate with God and others," writes Cowart. "We might find the places where creativity and empathy meet. We may find the place where destruction gives way to renewal. We might find the point where fear bends to possibility and possibility becomes purpose."
Today, as Cowart reflects on his incredible career and what he has become, he realizes just how extraordinary his parents were (and still are). They could have tried to sway his interests, to push him to be better in academics, but they didn't. They knew the truth: he'd never change the world with math, science, or history, but he just might make a difference with art. And so, through the ups and downs of his younger years his parents taught him the most important truth – I'm possible.
"This isn't a singular, personal, truth," says Cowart, "It applies to you too. You are possible; your dreams are, too."
I'm Possible hits bookstores nationwide on April 16, 2019. It's a book that will inspire readers with the message that all things are indeed possible through Christ.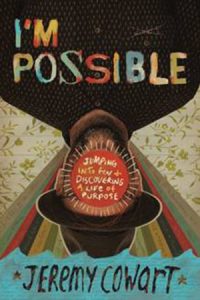 I'm Possible:
Jumping into Fear and Discovering a Life of Purpose
Jeremy Cowart
Thomas Nelson
April 16, 2019