With over 1 million views, the celebrity photographer's personal story to success shatters limitations and serves as wake up call for others, inspiring people to "dream again." Celebrities such as Sophia Bush, Florida Georgia Line, Jason Kennedy, Kimberly Williams-Paisley and more share impactful video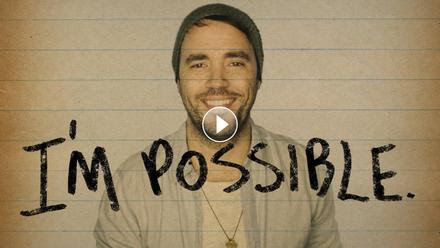 NASHVILLE, Tenn.—Celebrity photographer Jeremy Cowart is inspiring people everywhere with the recent release of his "I'm Possible" video. Already surpassing 1 million views, Cowart shares his own personal story, reminding others that no dream is too big.
Cowart is recognized as an accomplished entrepreneur and "the most influential photographer on the internet" (Huffington Post), but his success follows a long journey of self-doubt and an "I can't" mentality growing up. The video details the struggles—poor grades, being fired, the loss of his brother—that have led him to where he is now. Today, the acclaimed celebrity photographer has accomplished things he never believed possible, such as launching the impactful Help-Portrait movement, founding See University to share his extensive photography expertise and much more.
Cowart serves as an example for others, challenging viewers to overcome limitations and self-doubt, empowering them to change the world. At the end of the talk, Cowart reveals groundbreaking news with viewers. To find out the big plans he has in store for the city of Nashville (and beyond), watch the video here on this page, please click the "play" button in the image above.
Since its release, the "inspirational" and "powerful" video has been viewed more than 1 million times, with thousands of shares and comments on Facebook and Twitter. People are calling it a "wake up call," saying "Thanks for reminding me to start dreaming again." Celebrities such as Sophia Bush, Florida Georgia Line, Jason Kennedy, Kimberly Williams-Paisley and more are joining in the social conversation.
A resident of Nashville, Tenn., Cowart will be featured in an upcoming episode of ABC's Nashville. To keep up with Cowart and his upcoming endeavors, visit jeremycowart.com.
About Jeremy Cowart | Named one of the most influential photographers on the web, Jeremy Cowart has taken portraits of many familiar names such as Taylor Swift, Carrie Underwood, Kelly Clarkson, Tim Tebow, The Kardashians, Sting, Maggie Gyllenhaal, Heidi Klum, Emma Stone and Ryan Seacrest, just to name a few. With clients such as ABC, FOX, A&E, Discovery Channel, ESPN, People and more, his work has been published in outlets such as Rolling Stone, ESPN Magazine, USA Today and The New York Times. Knowing the value that a photograph can have in just one person's life, Cowart founded Help-Portrait, a worldwide movement of photographers using their time, equipment, and expertise to give back to those less fortunate. Cowart also launched See University to help share his knowledge with others through online courses.