CCM Magazine Exclusive Sneak Preview Video of Jenny & Tyler 'Waters Roll'
All proceeds from the song go to fight modern day slavery via International Justice Mission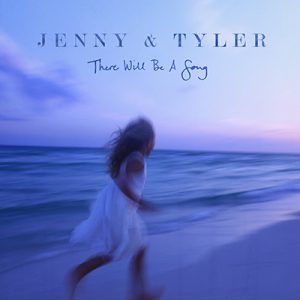 Nashville, TN (October 3, 2018)
One of Christian music's leading folk/pop duos for more than a decade, Jenny & Tyler return October 12 with There Will Be A Song, the couple's first studio release in three years. The highly anticipated project was produced by Tyler Somers and offers 14 tracks exploring justice, love and beauty.
Building on the signature harmonies and introspective songwriting that has come to define the duo's sound, highlights of There Will Be A Song include album opener "Who I'm Not," an emphatic plea for both temporal and spiritual authenticity; "Lesser god," an exploration of human nature versus self-denial, featuring acclaimed folk singer/songwriter Adam Agin; and the anthemic "O Freedom (There Will Be A Song)," showcasing Togo, Africa-born singer/songwriter NoMaD.
Jenny & Tyler wrote or co-wrote all of the album's selections, co-penning the wistful "Waters Roll" with longtime collaborator Ben Shive (Andrew Peterson, Ellie Holcomb). The song also features background vocals from acclaimed singer/songwriter Sara Groves. Additionally, There Will Be A Song includes the worshipful "He Is Good," as well as multiple selections addressing aspects of Jenny & Tyler's own relationship. The deeply personal "Wrote Us A Story," "I'm Sorry," "A Boy & A Girl (We're Getting Older)" and "I'm Gonna Love You To The End" affirm their commitment to each other while collectively depicting the triumphs and challenges of marriage, family and vocation.
"There have been many highs and lows over the past decade," Jenny Somers says. "We've fought, forgiven each other, had babies, walked with family and friends through hard places, and relied on those same family and friends to bring us through stretches of our own trial and darkness. The road can be lonely and put cracks in a marriage. We've come out the other side, able to see some of the fruit of those struggles and confusion."
"And that's what this record is about," she explains. "It's about real life. About young love turning into something much deeper and stronger when life isn't perfect. About parenthood and wondering if we're doing anything right at all. About our longing for the brokenness and injustice of this world to be made right. It's about the calling of the Divine and the freedom that can be found in being still and allowing ourselves to believe that we are truly loved, cared for and of priceless worth—made in God's image. That we're enough."
Jenny & Tyler will be performing selections from There Will Be A Song on the road this fall, including stops in Washington, D.C.; Nashville, Tennessee; Colorado Springs, Colorado; and South Bend, Indiana, among numerous other cities.
For further information visit jennyandtyler.com