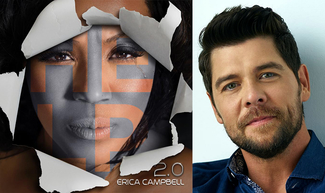 GRAMMY winner Jason Crabb – widely known as one of the most versatile and transcendent voices in music – is lending a little help to friend and fellow artist, Erica Campbell (Mary Mary) on HELP 2.0, the re-release of her GRAMMYaward winning project, HELP. Crabb appears on the song "I'm A Fan." HELP 2.0, on MyBlock/eOne Music, releases on March 31, 2015 and is available for pre-order now.
When asked about collaborating with Campbell, Crabb stated: "Anyone who knows me is aware that I love all kinds of music. I love a great voice and Erica Campbell's voice is AMAZING! When I got the call asking me to come to Los Angeles to record for this project, I thought someone was playing a joke on me! Erica is one of the most anointed voices I've ever heard and one of the kindest people I've ever met. I had a blast recording this song!"
Alongside Jason Crabb, HELP 2.0 features an all-star line up of guest appearances including Lecrae, Fantasia, Lisa Knowles, Jonathan McReynolds, Mr. Talkbox, and more. HELP 2.0 is available for pre-order now at iTunes and Amazon.
Crabb is currently in the studio recording his debut Reunion Records / Provident Label Group project slated for release later this year. He continues to tour and make television appearances. Most recently his acting debut in Welcome To Inspiration resulted in praise from critics and fans alike and his JASE children's book series continues to inspire his youngest friends.
For more information on Jason Crabb, visit his website and connect with him via his consistently active social networks.