Los Angeles, CA (December 5, 2019)
Christian music singer/songwriter and musician extraordinaire—and now, new mother—Jamie Grace recently announced her career plans for the next year, which will include releasing at least one new song every month. So, in advance of her big plans for 2020, Jamie Grace will be releasing a new Christmas music single, "The Story (Noel)," just in time for the holidays! Watch for the release of  "The Story (Noel)," next Friday, December 13th.
A true creative, Jamie's talents do more than garner #1 radio hits and grace the music scene, as she is also known for her film and television work, public speaking, and podcast that she produces with her sister (and fellow artist in her own right), Morgan Harper Nichols. In fact, her most recent creation—her baby daughter, born in June 2019 with proud husband, and also new father Aaron Collins—is the real inspiration behind this bold vision for the year 2020.
Grace continues the thread, stating, "I've been inspired more than ever and have written (and produced) so many songs, that I want to make sure I do something with them…"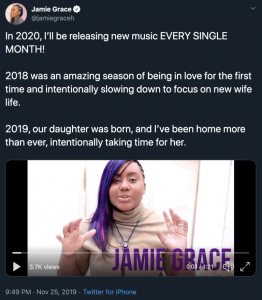 Please watch the full video announcement below, and stay tuned for releases from Jamie Grace beginning in January!