> Read CCM Magazine's review of EMPIRES
Hillsong UNITED released their highly anticipated new studio album, EMPIRES, last week to much acclaim and fan response. EMPIRES debuted at No. 5 on the Billboard 200 chart, at No. 1 on the Billboard Christian albums chart and No. 2 on the Digital Albums chart. The album also remained in the Top 5 peaking at No. 2 on the iTunes overall albums during street week.
UNITED's album was named the Album of the Week from USA Today last week featuring the band and project. The publication stated that "(EMPIRES') message may be paramount to Hillsong UNITED, but the melodies are almost as important. Like Coldplay, the group has mastered the engaging melody, and not just the ones that accompany the lyrics, but the ones in the soothing guitar patterns, the ostinato synthesizer lines, the simple piano motifs." In addition to the USA Today mention, UNITED was recently featured in the May 30 issue of Billboard along with exclusively shot photos of the group in Central Park. Click here to read the feature. This week UNITED is the featured performance on NBC's Beyond A.D. with the single "Touch the Sky." Click here to watch their performance.
Leading up to the release last week, Hillsong UNITED launched EMPIRES performing to 10,000 people in New York City for a free concert at Central Park's Rumsey Playfield as well as an one-off performance at Los Angeles' Club Nokia. In April, UNITED appeared live on The Today Show performing the hit "Touch The Sky." UNITED was also named Top Christian Artist at the recent Billboard Music Awards.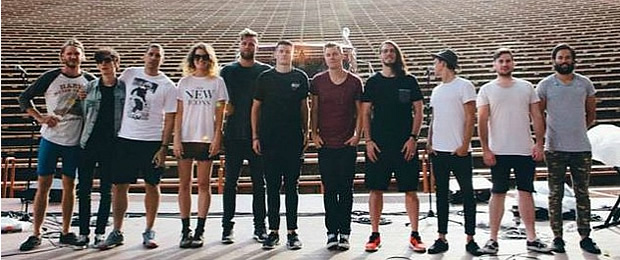 Other media outlets have praised the group and album saying:
"Part of what makes (the) message so accessible are UNITED's lyrics. The group's missive — 'that God is love,' says Houston — is often communicated subtly, through universal themes."
– Billboard

"The songs here — meaty, meaningful tracks like "Even When It Hurts" — remind us that there is much more to life than what we can see with our eyes."
– Rhapsody

"EMPIRES is a stunning display of universally relevant themes such as doubt, wonder, fear, joy, triumph and the ultimate victory of surrender."
– CCM Magazine

"On EMPIRES, Hillsong UNITED continues to stretch the boundaries of worship music while experimenting and combining progressive sounds of EDM, Synth Pop and Contemporary music."
– Breathecast

~~~~~~~~~~~~~~~~~~~~~~~~~~~~~~~~~~~~~~~~~~~~~~~~~~~~~~~
CLICK HERE to read CCM's album review of Hillsong UNITED's Empires!