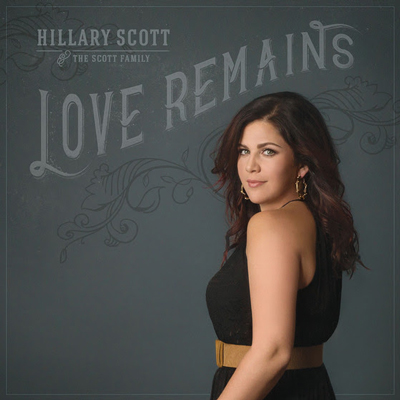 NASHVILLE, Tenn.—As part of this morning's exclusive sit-down interview with ABC's Good Morning America, seven-time GRAMMY award-winning Lady Antebellum member Hillary Scott announced July 29, 2016 as the release date of Love Remains (EMI Nashville, Capitol CMG) by Hillary Scott & The Scott Family.
"The process of making this album has been not only creatively inspiring but I've also really been able to grow as a person," shares Hillary Scott. "We've had this intense concentrated amount of time as a family together, which has been so special. With all that we've gone through together, the highs, the lows—to be able to process all of that together, to heal together, to grieve together, to laugh, to cry, all of those things…it's just been such a continuation of solidifying the strong foundation that we have in our family."
After the passing of her grandfather in 2011, Scott alongside mother Linda Davis, father Lang Scott and younger sister Rylee, leaned on their faith and music as a source of hope through the difficult time. The Scott family yearned to thank loved ones for their support and set out to record demos of family-favorite hymns. As the summer of 2015 wound down and Lady Antebellum soaked-in time off the road, the family's plans for a 5-song CD as a gift to family and friends, blossomed into what is now Love Remains.
The 13-track collection of faith-based songs is a combination of hymns Scott grew up singing in church, newly-written originals and songs made popular by other artists. With the help of producer Ricky Skaggs, the forthcoming album blurs the lines between gospel, bluegrass, country and pop. At the center of the mix are the rich, entwined voices of the Scotts, who take turns harmonizing and singing lead.
"We didn't want to make a sad record," noted Lang Scott. "You're always sad when you lose a loved one, but if you have that faith, it gives you hope. It gives you the courage to press on."
While the upcoming album's lead single "Thy Will" offers that universal message of hope, today on Good Morning America, Scott also shared her own personal struggle that led to "baring her soul like never before" (People). She revealed that the song was written about a more recent dark chapter in her life, a sudden miscarriage of her second pregnancy during the fall of 2015. Watch Scott's sit-down interview with Good Morning America HERE.
Today, fans can simultaneously watch the vibrant music video premiere for "Thy Will" on VEVO on this page by clicking the "play" button above, or watching the embedded version at the bottom of this post.
Love Remains offers plenty to believe in. These are songs that find the redemption in struggle, the peace in death, the joy in bonding with family members whenever times are tough. The stories behind the songs are personal, it's music with a message and Hillary Scott has rarely sounded more at home.
Love Remains track list:
1. "Beautiful Messes" (Connie Harrington, Ben Glover)
2. "Still" (Justin Ebach, Molly Reed)
3. "Sheltered In The Arms Of God" (Dottie Rambo, Jimmie Davis)
4 "Safe Haven" (Hillary Scott, Bill Whyte, Sydni Perry, Jimmy Fortune)
5. "Faithful Love" (Barry Dean, Don Poythress, Karyn Rochelle)
6. "The River" (Jeff Pardo, Jordan Feliz)
7. "Thy Will" (Hillary Scott, Emily Weisband, Bernie Herms)
8. "Come To Jesus" (Chris Rice)
9. "Love Remains" (Jim Daddario, Tom Douglas)
10. "We March On" (Don Poythress, Kenna Turner West, Lang Scott, Linda Davis)
11. "Your Unfailing Love" (Worley Max McKinney, Glenn Warren)
12. "Come Thou Fount"
13. "Ain't No Grave" (David Crowder, Seth Philpott, Hank Bentley)
About Hillary Scott | The faith-based country collection follows more than 11 million album sales worldwide for Hillary Scott as one-third of the one of the world's most popular groups, Lady Antebellum. The trio has earned six platinum singles and dubbed ACM and CMA "Vocal Group of the Year" three years in a row. In addition to co-writing six chart-topping Lady A hits including the 6x platinum hit "Need You Now," Scott has also written for artists such as Blake Shelton and Sara Evan's No. one hit, "A Little Bit Stronger." As a former MTSU student, the university recently started a scholarship in her honor for young women seeking a career in the music industry. For more information on new music, a full list of upcoming tour dates and more, visit www.hillaryscott.com