NASHVILLE, TENN. — Hawk Nelson continues to celebrate their newest release Diamonds (Fair Trade Services), which has produced their No. 1 radio single with "Drops In The Ocean." The debut single from their recent project was their first single at the top of Billboard's Christian AC Indicator chart – where it spent nine weeks at No. 1 and currently remains in the Top 5. In addition, the song spent four weeks at No.1 on the Billboard Christian Hot AC/CHR chart. The song is also currently in the Top 5 of the National Christian Audience chart.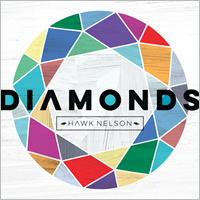 To check out this single and the new album digitally, get Diamonds on iTunes and Amazon now. The album has also received more than four million combined streams on Spotify and YouTube since it's release.
"It's been incredible to see people resonate with the message of this song in such a big way," shares Hawk Nelson's frontman Jon Steingard. "When the crowd sings the song back to us, and when we see how God has weaved it into the fabric of their life stories…that is the most humbling and gratifying response we could hope for."
Hawk Nelson will be sharing songs from Diamonds with the masses this fall on the NEWSBOYS "WE BELIEVE…GOD'S NOT DEAD" tour beginning on September 18 in Las Vegas and concluding December 13 in Knoxville. The band is also playing dates around the country this summer including the Wyoming, Illinois and Kentucky State Fairs. Check out all of their dates below.
ABOUT HAWK NELSON:
This powerhouse, pop rock band has won the hearts of thousands since its debut release in 2004. Hawk Nelson has released six studio projects (Letters to the President, Smile It's the End of the World, Hawk Nelson is My Friend, Live Life Loud, Crazy Love, and Made). Hawk Nelson has been awarded two Canadian GMA awards, multiple GMA Dove Award nominations as well as a JUNO nomination. The band's music has been featured on NBC, MTV, WB, WGN, KTLA, Nickelodeon and the NFL Network. Their music has been used with special promotions for American Idol, the NFL, Nike, JCPenny's, Olympics, NHL and Michelle Obama's "Big Day Out" 2011 campaign. Hawk Nelson is Jonathan Steingard (vocals, guitar), Daniel Biro (bass) and Micah Kuiper (guitar) and David Niacaris (drums).

Hawk Nelson Tour Schedule
Summer / Fall 2015
7/18 – Rapid City, SD
7/19 – Oklahoma City, OK
7/25 – Paintsville, KY
7/26 – Myrtle Beach, SC
7/30 – Corvallis, OR
7/31 – Oakdale, CA
8/01 – Flagstaff, AZ
8/08 – Franklin, TN
8/12 – Douglas, WY
8/14 – Houston, TX
8/15 – Sulphur Springs, TX
8/22 – Continental, OH
8/23 – Springfield, IL
8/29 – Charles City, IA
8/30 – Louisville, KY
9/16 – Hobbs, NM
9/18 – Las Vegas, NV
9/19 – Palmdale, CA
9/20 – Phoenix, AZ
9/25 – Redmond, WA
9/26 – Salem, OR
9/27 – Spokane, WA
10/01 – Bakersfield, CA
10/02 – Roseville, CA
10/03 – Fresno, CA
10/04 – Ontario, CA
10/09 – Missoula, MT
10/10 – Idaho Falls, ID
10/11 – Casper, WY
10/23 – Columbia, SC
10/25 – Asheville, NC
10/29 – Morristown, NJ
10/30 – Reading, PA
10/31 – Portland, ME
11/01 – Stamford, CT
11/05 – Pikeville, KY
11/06 – Grand Rapids, MI
11/07 – Peoria, IL
11/08 – Anderson, IN
11/13 – Lincoln, NE
11/14 – Ottumwa, IA
11/15 – Brookings, SD
11/17 – Amarillo, TX
11/19 – Amarillo, TX
11/20 – Tulsa, OK
11/22 – San Antonio, TX
12/03 – Dayton, OH
12/04 – Clarkston, MI
12/05 – Columbus, OH
12/10 – Mandeville, LA
12/11 – Pensacola, FL
12/12 – Jackson, MS
12/13 – Knoxville, TN
More tour details at http://www.hawknelson.com/!
GET CONNECTED WITH HAWK NELSON
Website: http://www.hawknelson.com/
Facebook: https://www.facebook.com/hawknelson
Twitter: https://twitter.com/hawknelson
Instagram: https://instagram.com/hawknelsonmusic