Nashville, TN (October 19, 2018)
Today is the day that Black River Christian artist and songwriter Hannah Kerr releases her new Christmas LP, Christmas Eve in Bethlehem. Produced by Mark Miller, Christmas Eve in Bethlehem features many holiday favorites along with two original songs co-written by Kerr—"Emmanuel," which she wrote with Andy Gullahorn and Jill Phillips, as well as the title track co-written with Jason Earley.
The ten-song project builds on last year's holiday EP, Emmanuel, that was touted as "compelling" and "encouraging" and brings a jazz-infused twist coupled with Kerr's stunning vocals, a project sure to joyfully kick off your Christmas season. Kerr will share many of the songs from Christmas Eve in Bethlehem when she joins Casting Crowns on their It's Finally Christmas Tour, which kicks off on November 29th in Portland, OR.
Earlier this week in Nashville, ASCAP held their annual 2018 ASCAP Christian Awards where Kerr was awarded a "Most Performed Song Award" for "Your Love Defends Me," the Top 5 hit co-written by Kerr and recorded by Matt Maher.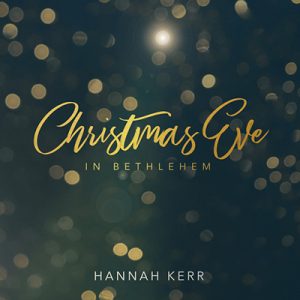 Christmas Eve in Bethlehem Track Listing:
"Winter Wonderland"
"Christmas Eve In Bethlehem"
"O Come All Ye Faithful"
"Emmanuel"
"The First Noel"
"O Come O Come Emmanuel"
"Breath of Heaven"
"Silent Night"
"Have Yourself A Merry Little Christmas"
"White Christmas"