NASHVILLE, TENN. — Michael and Lisa Gungor, curators of the Grammy-nominated musical collective simply known as Gungor, launched the pre-order of their new album One Wild Life: Soul today on iTunes, and each pre-order receives an instant download of the track "Light." One Wild Life: Soul, set to release August 7th, is the first of three full-length albums to be released by the band over the next 12 months. The Soul album will be followed by One Wild Life: Spirit and One Wild Life: Body. While each record will carry a distinct vibe, the album series presents a body of work that celebrates the adventure and challenges faced by Michael and Lisa since the release of their album I Am Mountain two years ago.
Soul delivers deeply personal and spiritual compositions that continue to blur the lines of genre and shed expectations. Songs such as "Light" were written following the discovery that their second daughter, Lucie, was born with Down Syndrome in 2014 (watch the video for "Light" below). "Us For Them" (watch the lyric video here) and "We Are Stronger" are anthems written to expose the cultural divides separating society, while also rallying people together to recognize their common value.
"Soul, our first volume, is largely a result of a very difficult year for us," says Lisa. "2014 was the hardest year of our lives. We faced so many things at once that it was incredibly hard to cope loss of friendships, betrayal, judgment, surgery for our baby girl. But in the middle of all of the pain, we also felt immense love — the kind that startles you and opens your eyes to a different sort of life. So we have been writing about all of it, learning to see the vivid beauty in it all — love and pain, joy and fight."
With the success of Gungor's former single "Beautiful Things" recently becoming RIAA-certified Gold, the band is poised to break new ground with the most ambitious creative endeavor of their career yet.
"The One Wild Life: Soul, Spirit, Body trilogy is an exploration of what it means to live as a human being in this marvelously absurd and extravagant universe," says Michael. "Many people, especially religious ones, tend to see those sort of divisions as real divisions within reality. As these albums will make clear, we don't see them that way. Rather than seeing soul, spirit and body as different realities, we are examining them as different ways of looking at and speaking about the same reality."
Pre-order One Wild Life: Soul by clicking here, and be sure to visit below to watch the official music video for "Light." The release dates of One Wild Life: Spirit and One Wild Life: Body will be announced on a later date.
GUNGOR 2015 TOUR DATES*:
7/22 – Los Angeles, CA @ The Hotel Café
8/06 – Kumla, Sweden @ Frizon Festival
8/21 – Pasadena, CA @ Maranatha High School
11/07 – Holland, MI @ Engedi Church
*For details and tickets, visit: http://gungormusic.com/tour. More tour dates being added soon.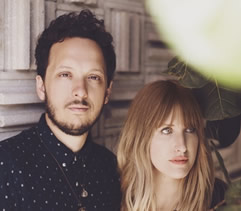 ABOUT GUNGOR:
Michael and Lisa Gungor are curators of the Grammy-nominated musical collective simply known as Gungor. The duo uses their skills as accomplished songwriters and multi-instrumentalists to tell honest and forthright stories — some personal and some allegorical. Together they've tapped their considerable musical reserves to blur genres to create a unique magnetic expression. In addition to their newest 2015 record One Wild Life: Soul, Gungor's previous full-length albums include I Am Mountain, Ghosts Upon The Earth and Beautiful Things.
Connect with Gungor at…
Website: http://www.gungormusic.com/
Facebook: https://www.facebook.com/gungormusic
Twitter: https://twitter.com/gungormusic
YouTube: https://www.youtube.com/user/gungormusic