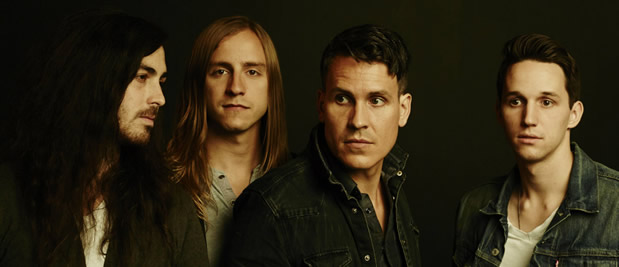 Remedy Drive guitarist Dave Mohr (second from left in above photo) announced today on his blog that he is leaving the band.
The more than 700-word blog entry reflected on Mohr's last four years as part of Remedy Drive 2.0 David Zach started in the wake of his brothers leaving the first incarnation.
Mohr recounted some of his joys, struggles and growth while in the band, ultimately concluding, "I need to try something different. I need to use my abilities, musical, relational, mechanical and otherwise to try something new."
He will be doing that, it appears, as his new band with his wife — Nicole Croteau-Mohr, formerly of Press Play — and sister-in-law appears to be ramping up. The band, called The Era, is more on the roots/Americana/folk end of things, which definitely pushes Mohr in a new creative direction.
"I am thankful that I have plenty of music to play, that I have plenty of students to teach, and that I have a future to explore," Mohr concluded. "Looking at the patterns of my life so far, I would risk a guess that the next four years will hold its share of struggle and joy, and I am nothing but excited for it."
Here is a video interview in which Mohr participated as part of his new band, The Era: