Debut Radio Single "Ever With Us" Features Lead Vocals by Dove Award Winner Alisa Childers
NASHVILLE, Tenn.—Hailing from beautiful Leiper's Fork, Tennessee, Grace Chapel Worship announces the release of their beautiful new 7-song Christmas EP, Songs of the Incarnation: Ever With Us on the Grace House Music label. The project is now available for purchase online through iTunes, Amazon Music and Google Play.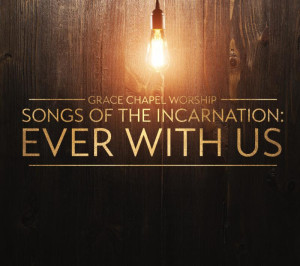 "My primary goal was to create a recording that people would want in their music collection at Christmastime," declares producer Scott Williamson (Point of Grace, Three Strand). "I think we did that. But, in doing so, we found our way into something even better–something truly worshipful that reflects the spirit of the season."
The EP kicks off with a decidedly Nashville version of the beloved carol, "Joy to the World," featuring an eclectic combination of electric guitars, keys and banjo, before seguing into the project's debut radio single, "Ever With Us." Written by music industry veterans Mia Fieldes ("Proof of Your Love," "He Knows My Name") Rick Cua ("I Can, I Will," "Above All Else") and Jonathan Allen ("All of Me," "Mighty Redeemer"), "Ever With Us" features lead vocals by Dove Award winner Alisa Childers (ZOEGirl). This lovely holiday-themed carol employs understated piano leads, gently strumming acoustic guitars and sweet strings to accentuate Childers' pristine vocals, as the lyrics remind listeners of the true meaning of the Incarnation–that the Word came down and walked among us. He is God with us! Worship, joy and awe collide in a song that is destined to become a holiday classic.
The EP's worshipful mood continues with the project's other original composition, the sweetly evocative, piano-driven "Peace Be Still," before subtly shifting into the more up-tempo "God Rest Ye Merry Gentlemen" which merges the Old English mood of the original with contemporary sensibilities. A joyful atmosphere emerges on "Angels We Have Heard On High," then is imbued with a hovering sense of awe as veteran CCM recording artist Amy Morriss Lowry takes lead vocals on "Oh Holy Night." The project closes with a lovely and peace-filled rendition of perhaps the most iconic of all Christmas carols–"Silent Night."
Contemporary Christian music pioneer and Grace Chapel pastoral care pastor Rick Cua credits Grace Chapel worship pastor Jonathan Allen with creating an atmosphere of worship that was conducive to producing the project. "Jonathan Allen's nurturing leadership has made a way for the worship team to pour it all out for Jesus each time we worship, while at the same time get out of the way so the congregation can stay focused and draw close to the Lord," says Cua. "Every track on Grace Chapel Worship's new Christmas EP is a reflection of what God is doing musically from week to week and song to song at our church. The foundation of it all is our desire to worship God by giving back everything He's given us."
"I've had the joy of serving with the worship community of Grace Chapel for years now, and I'm so excited to share our first Christmas project!" says Allen. "This project is the fruit of our annual Christmas Eve services where we take a quiet hour to remember that Jesus has come into our world and changed everything. We went into the studio with a few members of our community to capture the heart of those nights. The result has far exceeded my expectations, thanks to the brilliant contributions of our team and particularly Scott Williamson, who produced the project. My hope is that this recording, and everything we do, will make Jesus famous and be a blessing to worshippers."
In keeping with Grace Chapel's heartbeat for missions and in response to God's call to "look after orphans" (James 1:27), a portion of the proceeds from all Grace Chapel Worship sales will go towards Josiah's House, a boys' home started by Grace Chapel in the Dominican Republic.
About Josiah's House:
Located in San Pedro De Marcoris, Josiah's House, once completed, will be a complex of four homes housing a total of 32 boys, along with one married couple (house parents), in a family setting. The mission of Josiah's House is to give each child an education, Biblical guidance, life skills, and daily affirmation of God's love for them. In partnership with SCORE International and Grace Chapel, Josiah's House provides destitute boys with a place of hope. The vision is to expand the project to include a similar facility for destitute girls. For more information about Josiah's House visit josiahshouse.net.