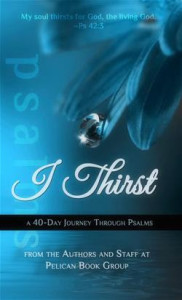 Aztec, NM—Pelican Book Group is offering a free download of a 40-day devotional book entitled I Thirst, based on the Book of Psalms. The devotional features entries from 33 authors and staff of the Pelican imprint. Editor in Chief Nicola Martinez wanted to offer readers a unique book for the Lenten season.
"Each year, Lent is a meant to be a journey to discovering Christ as we await Easter," says Martinez, "and I like to offer something special to people during this time. Last year, I felt compelled to offer the entire e-book catalogue free during the season of Lent. This year, I wasn't quite sure how to follow that up! And then it came to me when a colleague wrote an article about her favorite psalm. I hope that meditating on the 40 Scripture references in I Thirst will help people to grow closer to Christ this Lenten season."
Pelican continues to offer quality Christ-centered fiction to readers, releasing three new novels and two novellas between now and Easter including a romantic suspense novel entitled From Scratch by C.E. Hilbert, a historical romance called Northern Light by Annette O'Hare, a contemporary romance novel by Deborah Pierson entitled Not So Far Away, and the next two installments in Clare Revell's Flowers Can Be Fatal series—a romantic suspense for every month of the year.
View a video trailer of the book, I Thirst, by clicking the "play" button above.
CLICK HERE to download I Thirst for free.