Click the play button above to watch on this page. 
Two-time GRAMMY® award-winning duo for KING & COUNTRY will release their full-length album, Burn the Ships, on October 5th. The time since their last studio album has clearly been time well spent, as Burn the Ships' debut single "joy." has given the group their first ever appearance on Billboard's All Genre Digital Song Sales Chart. "joy." has been streamed in excess of 4 million times in the U.S. and its accompanying music video surpassed 1 million views within days.
Of the new release, Joel Smallbone, half of the for KING & COUNTRY duo, reflects, "This record is about how we learn from our past – how we use that knowledge to inform our future. Like a lot of us, our own journey hasn't always been easy, but we've found that you can rise up from the dust, walk away, and dance among the heartache. We hope that the music on this album conveys that sentiment and connects with everyone in a positive way."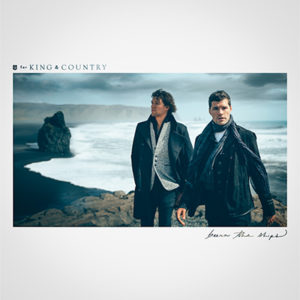 The album's cover image was shot in Iceland, a country that has become somewhat of a centerpiece for the album. While in Iceland the brothers shot the music video for the song "Pioneers," and the song was added to Spotify's "New Music Friday" playlist. The video features Joel, Luke, and their wives Moriah and Courtney contemplating the Icelandic countryside, which serves as a picturesque version of what it means to carry on within a seemingly desolate and volcanic framework.
"When life gets difficult, it may be tough to look at things in a positive light," adds Luke. "We found ourselves contemplating many different themes and feelings between our last album and now. Although things may have seemed tough at times, we dug deep within ourselves and found that while it's not easy to reconcile the past, the voyage ahead becomes substantially clearer if you can."