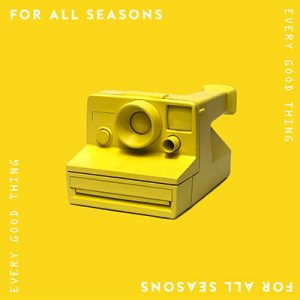 Nashville, TN (January 25, 2019)
Centricity band For All Seasons has planned a year full of new releases in 2019. Today they are starting with their new digital single "Every Good Thing." With January's theme "Seeing," the California band's new song speaks of recognizing and acknowledging God's presence. Featuring resonating pop vibes, "Every Good Thing" was written by band members Emily Hamilton and Jeff Luckey, along with Jeff Sojka and Cameron Jaymes.
In addition to new music, each month the band is releasing podcast episodes, music videos, and live Q&A sessions, all of which tie together with a common theme, for their yearlong "More Than Music" project.
"We were in a season of feeling discouraged, really questioning what we were doing and what God was doing in our lives…But then we heard God saying 'Trust the process, I'm taking care of you.' And within that day, we saw provision from Him," Hamilton says, reflecting on the song's inspiration. "God provides. Every good thing we have is from the Lord, but we have to choose to see and pursue and worship Him."
Next week the band will release a music video and new episode of their More Than Music podcast, which gives more background about "Every Good Thing" and this month's theme. The band is eager to connect with listeners through this year's content.
"It feels so  life-giving to be creating things that we really believe in and to to peel the song back in really fun ways, like in music videos, but also in deeper ways, like the podcast. We want people to understand what it is that we're writing about and how these lyrics were created to call them into something deeper with the Lord," Hamilton adds. "Diving into and writing about some of these themes has been a good-kind-of challenging, figuring out how to give people words for seasons we all walk through."
The "Every Good Thing" music video will  release next week. For All Seasons will continue releasing new singles the last Friday of each month throughout the year.