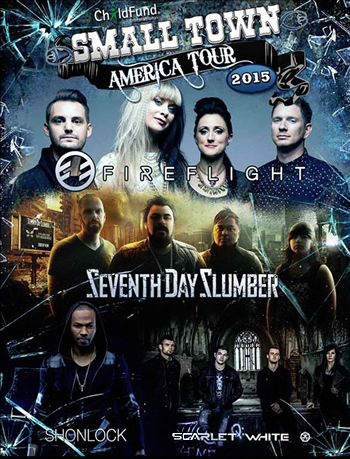 FIREFLIGHT, SEVENTH DAY SLUMBER CO-HEADLINE FIFTH ANNUAL "SMALL TOWN AMERICA TOUR 2015"

Tour Sponsored by ChildFund International Begins Aug. 19, Features Special Guests Shonlock, Scarlet White
JBH Booking Agency Adding Tour Dates Now
Fireflight and Seventh Day Slumber co-headline the fifth annual "Small Town America Tour 2015" with special guests Shonlock and Scarlet White. Sponsored by ChildFund International, the tour launches Aug. 19 and runs through Nov. 22.
Known for playing many smaller towns often overlooked by major tours, this year's "Small Town America Tour" (Facebook.com/SmallTownAmericaTour) is planning a multi-state, full-production run across the country. Promoters and churches in both small and large towns interested in bring this event to their area are invited to contact JBH Booking Agency (615-671-9323, [email protected]) as the agency is building the full itinerary for the 35- to 40-city tour now.
Seventh Day Slumber's guitarist Jeremy Holderfield explains the premise behind the acclaimed tour: "We know larger tours skip over the small towns because they believe there won't be a big turnout. Well, we love the small towns and believe it's the heart of America. So once a year we do this tour specifically geared toward small communities and smaller churches. We lower our costs as much as possible and put on the BIGGEST concert we possibly can. It's an awesome opportunity for small towns to get a big tour with big bands at an affordable cost. Larger towns are still welcome to participate of course!"
"Fireflight is so excited to join Seventh Day Slumber on 'The Small Town America Tour' this fall!" exclaims Fireflight guitarist Glenn Drennen. "One of our very first tours as a baby band was with SDS and we have a lot of history and memories with those guys! We cannot wait to usher in the next era of Fireflight and bring the music of INNOVA to the public on 'The Small Town America Tour!'"
About Fireflight:
After building a fiercely devoted following across four albums pushed through the major label system, including The Healing Of Harms, Unbreakable, For Those Who Wait (which cracked Billboard's Top 100) and the No. 1 Christian Rock album, Now, which surfaced in Spring 2012, Fireflight readies its 5th full-length album celebrating the 15th year of the band. Its first new album in over three years, INNOVA is a masterful step forward utilizing the innovative tools available to established bands in 2015, while building on a storied history that includes a Grammy nomination, major festivals and nearly 400,000 albums sold. INNOVA will be releasing independently through The Fuel Music May 5, 2015, and has already sparked the band's 8th No. 1 hit, "Resuscitate." Refined during a season of pain, uncertainty and frustration, the upcoming album stretches the limits of its art, reinventing itself while continuing to connect with its fans on a personal level.
For more information on Fireflight and INNOVA, go to www.fireflightrock.com, www.facebook.com/fireflightrock, @fireflightrock, instagram.com/fireflightrock and www.youtube.com/user/fireflightrock.
About Seventh Day Slumber:
Award-winning hard rockers Seventh Day Slumber released their 10th album, We Are The Broken, last spring from VSR Music Group (Capitol Christian Distribution) amidst acclaim. Selling a combined total of nearly 500,000 albums to date, the band has been a consistent force on Christian CHR and rock radio. They have charted five No. 1 singles and 14 Top 10 hits with signature songs like "Oceans From The Rain," "Inside Out," "Caroline," "Finally Awake" and "Wasted Life." The band has also reached the top of multiple sales charts. Its 2005 release, Once Upon A Shattered Life, hit No. 1 on Billboard's Heatseekers Albums chart, and 2007's Finally Awake landed at No. 1 on Billboard's Top Christian and Gospel Albums chart. In 2009, Rescatame garnered a GMA Dove Award for Spanish Language Album of the Year.
For further information on Seventh Day Slumber, visit www.seventhdayslumber.com, www.facebook.com/seventhdayslumber, @7thdayslumber and www.youtube.com/user/7thdayslumber
About Shonlock:
From the pinnacle of mainstream music, working with artists like Aaliyah and Arrested Development, to an altar of pop and praise, Shonlock has painted the world a richer shade of love with his musical gifts and faith. After receiving an inspiring call from fellow Grammy-nominated revolutionaries GRITS, Shonlock's career flourished and also led to an entirely new perspective on life. Alongside that spiritual renewal came a chance to work with like-minded stars such as Nicole C. Mullen and The Katinas, eventually catching the eyes and ears of multi-platinum DC Talk singer turned solo star, tobyMac. MC/Singer/Songwriter/Producer Shonlock partnered with Arrow/Universal, spawning his solo career with the Where Never Begins EP in late 2010 followed by the full-length NEVERODDOREVEN. Shonlock's Arrow Records release, A Night to Remember, released spring 2014 to wide acclaim. More information can be found at www.shonlock.com, www.facebook.com/Shonlock, @shonlock and https://instagram.com/shonlock.
About Scarlet White:
Formed in 2008, the heavy, post-grunge melodic rock of Scarlet White shares a bold message of strength, motivation and hope that supersedes all worldly obstacles. The band's acclaimed sophomore, full-length album, The Inbetween, was self-produced and recorded at GCR Audio in Buffalo, NY with Goo Goo Dolls' bassist Robby Takac's talented production team of Justin Rose (Engineer) and Richie English (Composer). Released Oct. 2014, the album has sparked a trio of back-to-back hit singles, including the No. 1 BDS Christian Rock song, Wake of the King, the Top 10 Billboard Christian Rock track, "Never Met," and the current single, Fire, which debuted at No. 24 on BDS Christian Rock March 11 and has already climbed to No. 8 on the chart. More information can be found at www.scarletwhitemusic.com, www.facebook.com/scarletwhitemusic, @scarletwhite and www.youtube.com/user/ScarletWhiteMusic.
About ChildFund International:
ChildFund International is a global child development and protection agency serving more than 18.2 million children and family members in 30 countries. For 76 years, we have helped the world's deprived, excluded and vulnerable children survive and thrive to reach their full potential and become leaders of enduring change. As a member of ChildFund Alliance, we create supportive environments in which children can flourish. For more information about ChildFund, visit www.ChildFund.org.