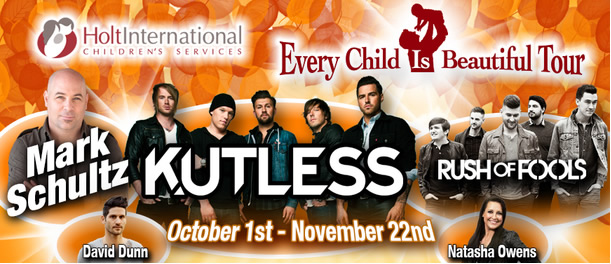 Nashville, Tenn. — Holt International announced today the Every Child Is Beautiful Tour that launches October 1st and will run through November 22nd. The tour will feature such high-profile artists as Kutless, Mark Schultz, Rush Of Fools, and will feature David Dunn and Natasha Owens. The tour is being produced by Up Music TV. Tickets will go on sale Monday, June 29th and may be purchased online at iTickets.com or by calling, 800-965-9324. The initial tour dates are listed below, with additional dates to be announced soon. For continued updates about the Every Child Is Beautiful Tour please visit online, https://www.facebook.com/everychildisbeautifultour.
"We are excited to see how God can work through music to change the lives of vulnerable children and families around the world," states Phil Littleton, President and CEO, Holt International. "This tour will be a fun event for concert-goers, and a way to show God's love to orphaned and homeless children abroad."
About Kutless
Kutless was launched by original members Jon Micah and guitarist James Mead as a modern rock/worship band at Warner Pacific College in Portland in 2000. Kutless signed to Tooth & Nail/BEC in late 2001 and released their self-titled debut the following year, which went on to become the fastest-selling debut in the label's history. Since signing to BEC Recordings in 2001, Kutless has been transformed from a new rock band to a staple artist in the industry that has multi-format, top-charting hits and has sold millions of records. Kutless has had 12 No.1 radio singles and released eight studio albums throughout their career. Check out additional information about Kutless at www.kutless.com, www.facebook.com/kutless, www.twitter.com/kutless.
About Mark Schultz
Originally hailing from Colby, Kansas, Mark Schultz moved to Nashville to pursue his musical ambitions and found inspiration while working as a youth pastor. Schultz booked a show at the city's famed Ryman Auditorium and with the overwhelming support of friends and family, the show was a sell-out. This virtually unheard-of feat for a new artist landed Schultz a record deal where he went on to sell over 1.3 million albums and garner 13 No. 1 singles to date. He has landed the top spot on Billboard magazine's Christian Adult Contemporary Songwriter list and has been featured on "48 Hours" and "Extreme Makeover: Home Edition." In 2011, Schultz released his first instrumental album, Renaissance and his first novella, titled Letters From War, based on the his hit song. His 2005 release, Mark Schultz Live: A Night of Stories & Songs, was certified Platinum by the R.I.A.A. and earned Schultz his first GMA Dove Award. For more information visit www.markschultzmusic.com, www.facebook.com/markschultz, www.twitter.com/mschultzmusic.com.
About Rush Of Fools
Rush Of Fools quickly jumped into the Christian music world when their first single, "Undo", hit No. 1 on Billboard's Christian AC chart for seven weeks in 2007. Since then, the band has been nominated for four GMA Dove Awards, received ASCAP's Song of the Year Award in 2008 for "Undo", and released four albums: Rush Of Fools (2007), Wonder of the World (2008), We Once Were (2011), and Carry Us Now (2014). This Alabama-based band continues a consistent touring schedule that includes leading worship at various summer camps, while balancing their time with their growing families and serving in their home churches. The story of Rush Of Fools began as a worship band, with the members writing songs together and that tradition continues to this day. The group has toured with such high-profile acts as the Newsboys, Big Daddy Weave, Newsong, Jimmy Needham, and Meredith Andrews. Rush Of Fools information is available online, www.rushoffools.com, www.facebook.com/rushoffools, www.twitter.com/rushoffools.
About David Dunn
BEC Recordings' David Dunn released his debut EP in 2014 and is following up the release with his first album, Crystal Clear, this summer. The record features his well-received radio single, "Today Is Beautiful." Dunn hails from Texas – as a graduate of Texas Tech University where he majored in engineering. He was an honors student who moonlighted as a singer/songwriter, playing the local acoustic scene in Lubbock. During his last year at Texas Tech, he recorded his first full-length project before heading to Africa for 13 months of humanitarian and missions work. After what he describes as "probably the biggest growth period of my life," David returned to the States with a horrible case of malaria. As Dunn tweaked his sound and continued writing, it became increasingly clear that his engineering degree would remain unused. In addition to appearing on NBC's The Voice, his music was gaining traction with audiences in a major way, not always the easiest of feats for an independent artist. Since his release of the EP, Dunn has been performing across the nation sharing his story and music. For continued updates on Dunn, www.daviddunnmusic.com, www.facebook.com/daviddunnmusic, www.twitter.com/davidtdunn.
About Natasha Owens
Natasha Owens is scheduled to release her sophomore project, No One But You, August 28th. The EP was produced by award-winning producer, Ed Cash, with Cash co-writing all five songs on the EP. The title track is the first single and is receiving airplay at WDJC/Birmingham, AL, WWWA/Winslow, ME, WJYO/Ft. Myers, FL and WLBF/Montgomery, AL. Owens brings impressive credentials with her new record, as she was featured on Jason Crabb's 40-city tour last year and will appear on TBN's Praise The Lord later this summer when Crabb serves as host for the evening. Owens has also shared the stage with other high-profile performers such as Michael W. Smith and Sanctus Real. For more information about Natasha Owens and No One But You please visit online, www.natashaowensmusic.com, www.facebook.com/NatashaOwensMusic, www.twitter.com/tashaownesmusic.
About Holt International
Holt International is a Eugene, OR based Christian organization, which is committed to preventing child abandonment globally by helping struggling families stay together, providing the highest level of care to abandoned, homeless and displaced children, and finding families for children through adoption. Holt International serves more than 75,000 vulnerable children in 13 countries annually, and as the 60-year-old pioneers of international adoption, they've helped more than 40,000 children find forever families through adoption. For further information, www.holtinternational.org, www.facebook.com/Holtinternational, www.twitter.com/holtintl.
EVERY CHILD IS BEAUTIFUL TOUR Schedule
(subject to change)
Oct. 1 – Beckley, WV
Oct. 2 – Bensalem, PA (Philadelphia)
Oct. 3 – Butler, PA (Pittsburgh)
Oct. 4 – Green, OH (Cleveland)
Oct. 8 – Lynchburg, VA
Oct. 15 – Huntington, WV
Oct. 16 – Louisville, KY
Oct. 17 – New Berlin, WI (Milwaukee)
Oct. 24 – Wichita Falls, TX
Oct. 29 – Dayton, OH
Oct. 30 – Belleville, IL (St. Louis)
Nov. 1 – Indianapolis, IN
Nov. 5 – Mobile, AL
Nov. 6 – Jacksonville, FL
Nov. 7 – Dublin, GA (Macon)
Nov. 12 – Marion, IL
Nov. 21 – Myrtle Beach, SC