Nashville, TN (October 7, 2019)
GRAMMY®-nominated vocal band Ernie Haase + Signature Sound is scheduled to release its first full-length holiday album in 10 years, A Jazzy Little Christmas, on October 11. The collection of holiday classics and sacred seasonal songs, released via Gaither Music Group, resounds the joy and miracle of Christmas. A Jazzy Little Christmas is available for pre-sale now at Gaither.com, Amazon.com, CBD.com and LifeWay.com.
The world-renowned quartet enlisted Tony Bennett's former musical director and pianist Billy Stritch, award-winning producer Wayne Haun and some of New York's finest musicians for A Jazzy Little Christmas. Along with holiday favorites such as "O Holy Night," "Winter Wonderland" and "I Heard the Bells on Christmas Day," A Jazzy Little Christmas also features a Haase original "Christmas in Manhattan."
"New York City is a very special place for me and my wife, Lisa. We're going on 30 years of marriage, and one of the things we started doing when we first got married was going to New York and doing a Broadway blitz, especially at Christmastime. We would get there and just look at the lights and take in the city, so I wanted to write an original song, and we did. It's called 'Christmas in Manhattan,' and I hope it becomes a new Christmas classic," expressed Haase.
Haase added, "One of my favorite songs just happens to be a Christmas song—'I Heard the Bells on Christmas Day.' That was written by Henry Wadsworth Longfellow right after the Civil War. He had lost his home to fire. His wife had unexpectedly passed away…his son brutally wounded in the Civil War. I can imagine the bells on Christmas Day mocking his despair. But the last verse is where faith came to the surface, 'Then ring the bells more loud and deep, God is not dead or does He sleep, the wrong shall fail the right prevail with peace on earth good will toward men.' That's faith and we pray that this recording will inspire others to open the gift of faith this Christmas."
Performing over 100 concerts per year, Ernie Haase + Signature Sound will add A Jazzy Little Christmas Tour to their schedule this winter. With true, four-part harmony and a three-piece jazz band, the live show will be reminiscent of the sounds of The Four Freshmen with the jazz of Tony Bennett.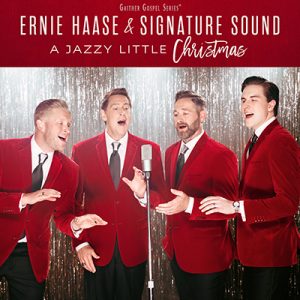 A JAZZY LITTLE CHRISTMAS TRACK LISTING:
1. Happy Holiday / It's the Holiday Season
2. O Holy Night
3. Christmas in Manhattan
4. I Like a Sleighride (Jingle Bells)
5. Love You Remember
6. I Heard the Bells on Christmas Day
7. It's Beginning to Look a Lot Like Christmas
8. We Three Kings
9. Snowfall
10. Winter Wonderland
11. Sometimes I Wonder
12. Christmas Time Is Here
13. Mister Santa
14. Peace on Earth / Silent Night
A JAZZY LITTLE CHRISTMAS TOUR:
Nov. 21 – Storm Lake, Iowa
Nov. 22 – Columbus, Neb.
Nov. 24 – Monmouth, Ill.
Dec. 1 – Bradford, Pa.
Dec. 5 – Grand Rapids, Mich.
Dec. 6 – Fergus Falls, Minn.
Dec. 7 – Lakeville, Minn.
Dec. 8 – Yankton, S.D.
Dec. 10 – Great Bend, Kan.
Dec. 11 – Loveland, Colo.
Dec. 12 – Steelville, Mo.
Dec. 13 – Asheville, N.C.
Dec. 14 – Wilkes-Barre, Pa.
Dec. 15 – Wheeling, W. Va.
Dec. 20 – Waterloo, Iowa
Dec. 21 – Van Buren, Ohio
Dec. 22 – Newburgh, Ind.
Visit: www.erniehaase.com