After shocking judges Adam Levine and Christina Aguilera on Season 5 of NBC's "The Voice" with her spectacular rendition of Joe Cocker's "You Are So Beautiful", Donna Allen is back with a new sound dedicated to her passionate faith in the Almighty.
Born and raised in Florida, Donna began her incredible musical journey performing with local bands in and around the Tampa Bay area. However, it was when she relocated to South Florida, that Donna landed her first major recording contract. Her partnership with Atlantic Records resulted in two of her biggest hit records, both "Serious" and "Joy And Pain" stormed the charts around the world.
Donna's voice is simply majestic, a powerhouse of tender sweetness, she oozes class and grace and its evident why she has enjoyed a successful career spanning more than three decades.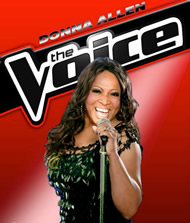 Donna Allen's unique vocalizations have led to her touring the world with Grammy Award winning artists such as Gloria Estefan and Jon Secada, as well as performing original songs on a number of major motion picture soundtracks, including Sylvester Stallone's "The Specialist", Whoopi Goldberg's "Fatal Beauty" and the Oscar winning movie "Precious". Donna has also been cast in a leading role of a short film entitled "Mama I Saw Jesus", Directed by Jermaine Anglin.
Donna's new musical project is a full length CD entitled; I'm Your Bride, exploring her spiritual side with an inspiring audible love story to the Divine guaranteed to touch the heart, soul and spirit of all its listeners. The album is a perfect mix of traditional gospel sensibilities with a cool contemporary edge and of course Donna Allen's unbelievable God given vocal prowess.
Distribution for Donna Allen is being handled by music industry entrepreneurs Karvin Johnson and Lori Taylor Johnson of KES Music & Video Distribution, one of the most successful full service entertainment companies in the US, with 30 years of experience in the music industry. Alongside Jones & O'Malley, KES and Sister Company National Marketing and Promotions (NMAP) division are supervising music marketing and international distribution for Donna Allen.