DJ MAJ CELEBRATES THE POWER OF COMMUNITY WITH NEW PROJECT VIA KICKSTARTER CAMPAIGN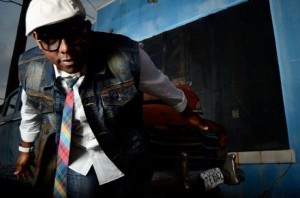 NASHVILLE, Tenn.—DJ Maj, the DJ for TobyMac's Diverse City Band, is celebrating the beauty of the power of community with his upcoming project via a new Kickstarter campaign. Launched this week, the Kickstarter campaign will fund a brand new project from DJ Maj set to release in 2016. This project is coming to fruition after a long journey for this world-renowned DJ, who can be seen currently on the TobyMac "This Is Not A Test" tour.
"This project for me is a celebration of a community who banded together to transform a life, my life," shares DJ Maj. "With this project and Kickstarter, I hope to communicate hope and export this story to the world. I'm ready to share what I've learned."
In 2003, a diverse group of individuals banned together to help raise funds for Maj for a correctional hip surgery needed due to a childhood hip disease—legg perthes. Fast-forward 12 years in January, Maj was able to finally have this necessary and long-overdue surgery. Through this experience, banning together with those around him, Maj broke cultural race dividers.
"My inspiration is the result of a diverse community of believers who selflessly rallied around me during this long overdue hip surgery," states Maj of this experience. "There's so much to tell. I have concepts for a batch of new songs and a desire to get them recorded."
With this new album, Maj will feature songs and video documentation he's collected since 2010. He will tell this story—bringing a balance to the daily output of cultural division. He wants the global community to share in bringing his ideas and vision to life.
Join DJ Maj as he shares his story be a part of this community. View the Kickstarter
campaign here, support his vision and take an early review the song "We Shine" from his forthcoming project. http://kck.st/1hNme4Z
ABOUT DJ MAJ:
Michael "Maj" Allen (pronounced "madge") has continued to evolve both in position and function. Some know Maj as DJ for TobyMac's Diverse City Band. Others know Maj from his original roles as syndicated radio show host and conductor for various groundbreaking inspo-mix compilations released through the EMI system from 2000-2004.  In 2005 marked the launch of his first solo project titled Boogiroot (Gotee/EMI) with lead single "Love – So Beautiful." Guest features include legendary MC Special Ed, manChild of Mars Ill, Grammy Award Winner/multi-platinum artist – TobyMac. Following Boogiroot was the 2007 release of the Speckled Goats II compilation benefitting World Vision relief efforts.
In 2010 the journey continues for Maj as "Hill Street Blues" hit the airwaves and major digital outlets. Hill Street is produced by Victor "Liquid" Oquendo whose production credits span across Petey Pablo, MTV's Pimp My Ride, KJ52, Toby Mac, Grits & Out Of Eden. Other projects and singles include "Carol of the Kings" on TobyMac's A Christmas In Diverse City, his single "Tumblin'," which charted on the Australian and Canadian charts, "UK" released in 2013 and "Broken" released in 2014. For more information and to keep up with his touring schedule visit: http://www.djmaj.com