City is defined as any place where people are gathered.
Harbor is a sanctuary, a place of rest.
"Our ministry is to be a place of rest in the middle of all the craziness," says Molly Reed, one-half of the new duo, City Harbor.
Our music comes from a real place for both of us. There is a human element to being a follower of Christ," she continues.
It's that humanity that is the guiding light in City Harbor's music and writing, but also in the way they approach their ministry—and their songs are just the beginning.
At every concert, their merch table has the usual array of CDs, t-shirts and photos. A second look reveals something more…something with a bit of bling…sort of.
"One of our friends, Gracie started a women's ministry called Mirian designs," says Molly.
Mirian designs has partnered with Thistle Farms, a thriving ministry with a solid history in the Nashville area, of getting women off the street, back to Christ and back into life. Through counseling, a residential program and a job, these women get another chance. Mirian follows suit. Women who are involved learn to design jewelry and sell their handmade work for income, integrity and a reason to hold their head a little higher each day.
"Just having a job gives these women such a sense of pride and value," says Robbie. "We're excited to be spreading the word."
"When we see hurting people, struggling loved ones and injustice in the world we're always thinking somebody's gotta do something. but inside we know it has to start with us. All too often we miss the moment to share our faith or show love," Molly adds.
Driven with a sense of priority, if not urgency, City Harbor doesn't waste a single moment in their music to do just that—share faith and show love. It's a skill they've been honing for years.
"It's been a gift to have had the past 5-7 years in a professional songwriting realm," says Molly. "We've been working at crafting songs that mean something and say something that's familiar and something you can connect with."
"I'll brag for a second, if I may," Robbie adds. "Molly has been a professional writer for a while now. She had cuts on Amy Grant's latest project, on Francesca's next project. She's established as a writer and has been sharpened."
That sharpening is evident in songs like "Come However You Are," which picks up a theme that has certainly been written about in Christian music before (think Crystal Lewis's "Come Just As You Are"), but it's worded and presented in a way that's not just different for the sake of being different, it's the vernacular of the people who need to hear it.
"When you're looking at scripture, it can get really heavy or really watered down," he says. "All of us are really trying to figure out what we have to be, who we have to be enough. He just wants you now. We're trying to speak that in a language people connect with."
And that's exactly what they have done. The words of their songs are accessible. The melodies stay with you. But it's the humanity within that's going to change lives.
Transparent, funny, authentic…City Harbor isn't just another Christian duo. There's something more here…an intangible…there's an integrity—in the music and in their lives.
Unlike other Christian duos, such as FFH, Out of the Grey, Love & the Outcome, Molly and Robbie are not married. At least, not to each other.
"I married Mike Grayson (from MIKESCHAIR) about a year ago," says Molly. "Robbie has a serious girlfriend, but we've been very intentional about presenting those relationships. We know that it's a male/female working together, so we set boundaries. We never travel alone. We always have a third player with us. We have the necessary accountability in place."
"On a deeper level," Robbie adds, "It's not just Molly and me over here doing this thing. I know Mike really well, Molly knows my girlfriend and my family."
"We want to be viewed as a band…as friends," Molly adds. "We don't ever want to lead anyone astray. The center of us and our songs is Jesus."
From the integrity within their personal parameters and relationships to their commitment to their craft and musicianship to their heart for women who are rebuilding their lives one step at a time, City Harbor is just what the name suggests. They are a haven. They are a stronghold and the words they give and lives they live offer sanctuary for those who come near.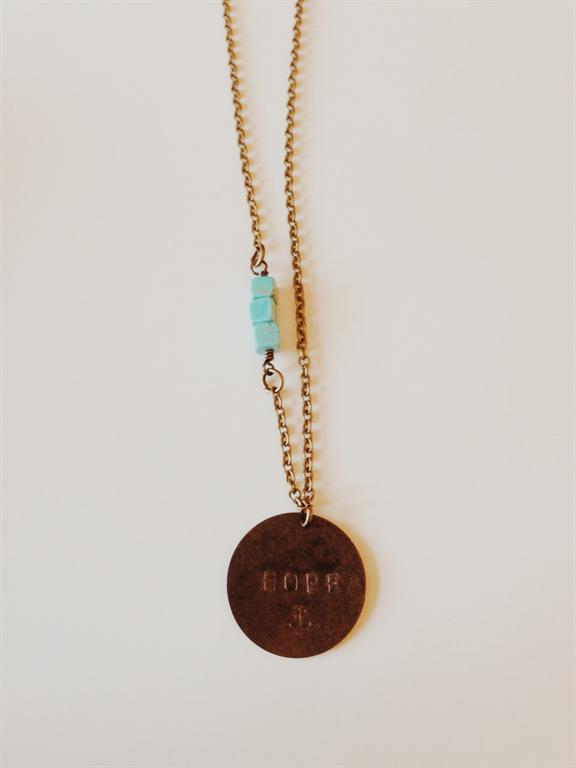 Click here to learn more about this necklace designed exclusively for City Harbor by Miriam Designs.