Angels have been present since the beginning of time, yet we know so little truth about them. In his warm, storyteller style, best-selling author Robert Morgan presents a long-term effort of research behind the mystery of angels—in the teachings of the Bible, their role in the story of Christ, stories of how they impact Christian and missionary history, and personal accounts of their presence in our everyday lives. This is a revealing look at what angels do for us, opening our hearts and minds to their power and personalities as they carry out their purpose and God's overall plan for His kingdom.
Angels Excerpt One
Charles Okwir lived through Idi Amin's reign of terror in Uganda in the 1970s, and he credits God's angels with caring for him, especially in 1973. That year, Charles saw people around him killed, and he himself was chosen for death several times. But each attempt on his life was mysteriously thwarted.

"One evening I had gone to buy goods from town," he said. "On my way home I met Amin's soldiers and people were being knifed. Many were forced to lie on the ground, and I watched as they were bludgeoned to death. Blood was everywhere. But the angel of the Lord blindfolded the eyes of the soldiers as I rode past on my bicycle. The soldiers did not see me. I passed by unnoticed, as if invisible.

"Another evening, a soldier jumped out from the bush, his gun cocked and pointing at me. But he was trembling. He cried, 'What's wrong with you? I wanted to kill you, but I cannot. What is your secret?'" Charles told him he'd been doing God's work. The soldier backed away. "Your God is great," he exclaimed. "Go and pray for me too."
We can't fathom the ways that angels ferry God's goodness into our experiences. Peter spoke of "God's grace in its various forms" (1 Peter 4:10). Though we may never have experiences like Charles did, the amazing grace of God comes to all believers in various forms. God blesses us each day with warming sunshine or replenishing showers, with twittering birds, and with the harvest of grains which provide our daily bread.
Angels Excerpt Two
When John was eight years old, his father came home drunk. This happened frequently. The man's tirades usually involved the four children as a unit, but on this particular night, John was singled out. As the family gathered for dinner, John said something innocuous that sent his dad into a rampage. The man ordered John to his room, adding ominously, "I will meet you there!"
The boy ran up to his room. His eyes filled with tears. "Jesus," he stammered, "I think I'm going to die tonight. So I'm asking You for one of two things. Would you either protect me here on earth tonight, or would You take me up to heaven to be with You? Either way, I know I'll be safe."
At that moment, a stranger showed up in the kitchen. It was an over repairman making a late and unexpected call. The stranger's presence distracted John's dad and short-circuited his booze-induced rage. As the boy reentered the kitchen, John saw a man with a warm smile. The stranger looked purposefully at John, winked, and went about his task.
Hebrews 4:16 also tells us to "approach the throne of grace with confidence, so that we may receive mercy and find grace to help us in our time of need." Seven times in His Upper Room Discourse in John 13-17, Jesus said that if we ask anything in His name, He will do it. The apostle John later restated the promise like this: "This is the confidence we have in approaching God: that if we ask anything according to his will, he hears us. And if we know that he hears us – whatever we ask – we know that we have what we asked of him" (1 John 5:14-15).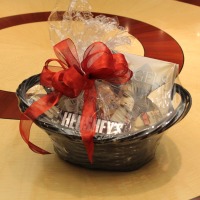 Click here to enter for your chance to win an Angels gift basket complete with devotional, keepsakes, yummy goodies and more!