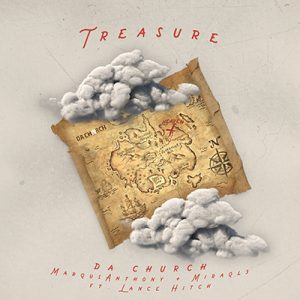 Nashville, TN (April 11, 2019)
"Treasure" is a chilled-out, wavy groove. The melodic, banging production by Miraql3 is perfectly complemented by vibey vocals from Lance Hitch. Marqus Anthony delivers a verse intricately laced with bars and complex rhyme schemes. Next, Miraql3 slides on the beat, utilizing his rhythmic tones and catchy lines. Overall, Da Church's new song, "Treasure"encourages the listener to be heavenly minded with their eyes on eternity.
Da Church's "Treasure" is available everywhere this Friday, April 12, 2019 via EMPIRE Distribution.