Springdale, Ark. – CCM pioneer Crystal Lewis is set to deliver a double-shot of soul and R&B when the Grammy-nominated and Dove Award winner releases two singles to Christian radio on Tuesday. "Faithful", a song penned by Lewis, will be serviced to Christian AC, Christian CHR and Gospel-formatted stations. "Love Each Other", written by Lewis, Jonathan Eric Korszyk and Michael Joseph, will ship to Christian CHR, Christian Rock, and Gospel stations. Both singles were produced by Elijah Thomson.
The singles are from Lewis' upcoming self-titled project, the entertainer's 28th career album. The album is set to release in the Fall.
"The first song I completed for the new record was 'Faithful.' I had been in such a confused, chaotic creative place, nothing was coming together or making sense! 'Faithful' served as the catalyst for the rest of the creative writing process," Lewis said. "The song was prophetic, I think, because what I needed to hear was…"this isn't about what YOU can accomplish, it's about what the God of the Universe has done, can do, will do". 'Faithful' reset my heart and changed my perspective.
"The message of 'Love Each Other' is a simple one: Love Each Other. Jesus said the way to show people that we love God is by loving each other (John13:35). Doing so requires the picking up of humility and courage, and the laying down of self-righteousness and pride," said Lewis. "Too often I've witnessed this idea break down the moment we walk outside the church doors. God so loved THE WORLD…. we are to do the same…".
Lewis has enjoyed a career that spans across more than two and a half decades, with more than 20 English-speaking albums, seven Spanish albums, Dove Awards, Grammy nominations, multiple No. 1 singles and millions of fans throughout the world.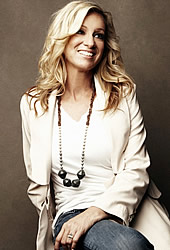 About Crystal Lewis:
Crystal Lewis is a critically-acclaimed singer/songwriter, multi-Dove Award winner and Grammy nominee. In a day and age where so many artists come and go, her voice has withstood the test of time. Over the course of nearly three decades, Lewis has released more than 27 albums (including seven albums in Spanish, two live albums, two Christmas albums and a children's album).
For more information about Crystal Lewis…
Website: CrystalLewis.com
Facebook: Facebook.com/OfficialCrystalLewis
Twitter: Twitter.com/TheCrystalLewis