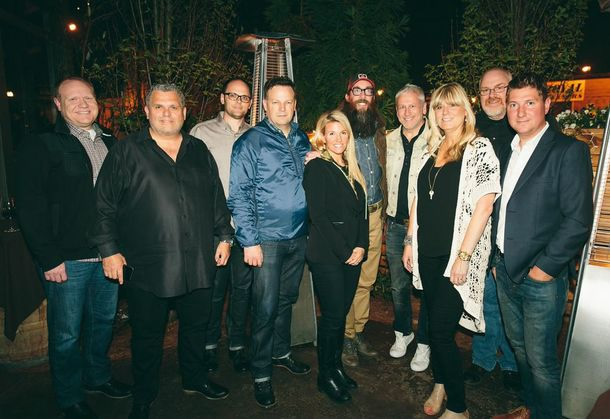 Greg Bays (Executive Vice President, Capitol Christian Distribution), Peter York (President, Capitol Christian Music Group), David Sylvester (Vice President of Marketing, Capitol CMG Label Group), Brad O'Donnell (Vice President of A&R, Capitol CMG Label Group), Toni Crowder, David Crowder, Louie Giglio (Visionary Architect and Director of the Passion Movement), Shelley Giglio (Chief Strategist, sixstepsrecords), Grant Hubbard (Vice President of Marketing, Capitol CMG Label Group), Mike McCloskey (Artist Development & Management, sixstepsrecords)
Nashville, Tenn. – GRAMMY®-nominee and folk-tronica artist Crowder celebrated his first career No. 1 single for "Come As You Are" after a performance April 14th in Nashville.
"'Come As You Are' is my favorite song that I have ever been a part of writing, and I am so grateful I was able to be a part of this thing coming to life," shared Crowder at Tuesday night's celebration. "Matt (Maher) and Ben (Glover), thank you for writing this song with me. I am grateful to Gabe (Scott) and Ed (Cash) for making all of the music come around it in a way that echoes the grandness of the lyrics that God breathed out of us. To the entire team that has supported and invested in us for the last 15 years, this is just beautiful – thank you."
"Come As You Are" received a slew of powerful responses from fans, industry, radio and media. The song first reached the number one spot in January on the Christian AC Indicator Chart, and continues to remain in the top 10 on both Christian AC Indicator and Inspo Charts. The track earned Crowder the first solo GRAMMY ® nomination of his career, and a nod for "Best Worship Song" at the upcoming K-LOVE Fan Awards taking place in Nashville on May 31, 2015.
"To see the first No. 1 come after 15 years of working with David (Crowder) is a reminder that it is worth the time and investment to keep believing. God has obviously been doing something great the whole time, we have experienced it, but we are seeing something amazing in these recent days. The best is yet to come, and I think tonight is proof of that," remarked sixstepsrecords' Chief Strategist Shelley Giglio. "There are so many people that have been a huge part of this process – band members, radio teams, writers, producers and more – we want to thank them for their hard work. We congratulate David because he has carried the song so incredibly well."
Crowder has been taking his front-porch stage across the country, joining the all-star line-up of "The Rock & Worship Roadshow" tour and headlining an extended version of his "Neon Steeple Tour" which will wrap at the end of this month.

Get Connected with Crowder:
Website // http://www.crowdermusic.com
Facebook // https://www.facebook.com/crowdermusicofficial
Twitter // https://twitter.com/crowdermusic
Instagram // http://instagram.com/crowdermusic
iTunes // http://smarturl.it/CrowderNeonSteeple
Spotify// http://open.spotify.com/artist/39xmI59WrIMyyJjSDq6WCu