Nashville, TN (November 9, 2018)
Grammy-nominated, singer/songwriter and multi-instrumentalist Crowder, has released his new album I Know A Ghost. Known for his musically adventurous spirit, Crowder delivers a modern blend of bluegrass, hip-hop, Pop and EDM with already available songs including "Wildfire" and "Red Letter." Drawing across the entire musical map, he stretches musical boundaries with Latin influences in songs like "La Luz," he brings in instrumental textures with porch-playin,' beat-stomping songs "Child Of God" and "Happy Day," and he draws the listener in with the ear-bending, gospel-infused "Let It Rain" ft. Mandisa.
Crowder's ability to create music that is bold but accessible is powerful, elaborate and unpredictable. With a loaded 16 tracks across the album (15 of which Crowder co-wrote), his moving testimony of faith, personal experience and belief in a higher power resonates on this new album. I Know A Ghost is the follow up to his chart-topping record American Prodigal, which debuted at #1 on the Christian and Gospel Album charts and at #5 on Billboard's Top Albums chart.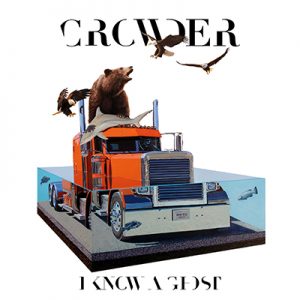 I Know A Ghost Track Listing
I Know A Ghost
Wildfire
Golgotha Hill (King Of Love)
Crushing Snakes (feat. TAYA)
Red Letters
Let It Rain (Is There Anybody) (feat. Mandisa)
Everyday I'm Blessed
I'm Leaning On You (feat. Riley Clemmons)
No Rival (feat. JR)
Child Of God
Happy Day
Night Like This
La Luz (feat. Social Club Misfits)
The Sinner's Cure
Hundred Miles
Ghost