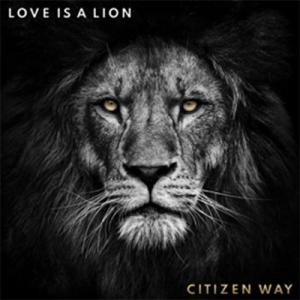 Nashville, TN (September 20, 2019)
Fairtrade Services Christian music trio Citizen Way has announced the upcoming release of their third studio recording, Love Is A Lion, which will be available everywhere on October 18th. The band recently unveiled the captivating cover art and rolled out a brand new track, "Love Has Won." Love Is A Lion's first single, "The Lord's Prayer," is off to a strong start on Christian radio.
"This album is the victory lap of the last four years of our lives, which were the hardest we've been through," remarked lead singer Ben Calhoun. "Each one of these songs is founded in God's Word. They are the stories of our lives and the people we get to live and serve with. We hope you enjoy it as much as we do."
Citizen Way will kick off their 15 city Love is a Lion Tour September 27th in Poughkeepsie, NY. Also featuring Jason Gray and The Young Escape, the tour will hit markets across the Northeast, Midwest and Southwest through October. The tour continues in November with Jamie Kimmett joining Citizen Way and The Young Escape. ShareWord Global is sponsering the tour, and has a mission to distribute Bibles throughout the world. Co-sponsor is Generosity Rocks, a non-profit founded by Calhoun. Citizen Way will donate 10% of their merchandise sales to a local ministry in each city.