Shreveport, LA (April 11, 2019)
Christina Bell has a voice for the heavens and is surely a favorite singer for many Gospel music fans. Her rich and soaring vocals can be heard on her new single, "Going," which has quickly landed in the Top-30 at radio, and continues to climb. Written by Isaiah Templeton and Shamarr Blake, "Going" is a luminous ballad that expresses reverence for God's mercy, that—as the refrain states—"just keeps going."
Watch it here:

Bell is also a cast member in the anticipated biopic The Clark Sisters: The First Ladies of Gospel that will premiere on Lifetime Television next year. Bell plays Twinkie Clark alongside Lovecraft Country's Aunjanue Ellis who plays Mattie Moss Clark, Kierra Sheard who plays her mother, Karen Clark, Sheléa Frazier as Dorinda, Raven Goodwin as Denise and Angela Birchett as Jacky.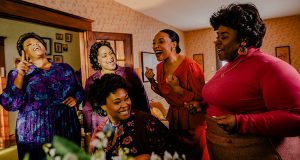 Queen Latifah, Mary J. Blige and Missy Elliott are executive producers of the television movie, which recently finished filming. The movie will detail the Clark Sisters' humble beginnings and struggles to find their place, to later becoming the best-selling Gospel group in the music world. The biopic will feature re-recordings of some of The Clark Sisters biggest hits, such as the all-time classic "You Brought the Sunshine."
"I am excited about the doors that God has opened in this season of my life and career," says Bell. "It isn't easy transitioning from a group to a solo artist, but God does all things well and His timing is perfect, so all I can say is 'thank you Lord'.
"I appreciate the support for 'Going' and hope that the song blesses all who hear it. I can't wait for everyone to see the Clark Sisters biopic. I had a great time filming it and it is an honor to be included in this project that tells their inspiring story."
About Christina Bell
Christina Bell is a Gospel vocalist from Shreveport, Louisiana. Singing Gospel music for almost 20 years, Christina has traveled the country and shared stages with some of the genre's biggest names, including Yolanda Adams, Kirk Franklin, Marvin Winans, and The Clark Sisters to name a few. Christina is a former member of 2x Stellar-nominated Gospel group Zie'l. She recently signed to the legendary Malaco Records.
Find out more about Christina Bell at www.officialchristina.com