GRAMMY winner Chris Tomlin shares his favorite things at Christmastime!
Favorite Christmas Gift:  Honda ATV three-wheeler
Favorite Christmas Albums:  Andrew Peterson's Behold the Lamb of God and Josh Groban's Noël
Favorite Christmas Songs:  "O, Holy Night" and "O, Come All Ye Faithful"
Favorite Christmas Story: Charles Dickens', A Christmas Carol
Favorite Christmas Movie:  It's A Wonderful Life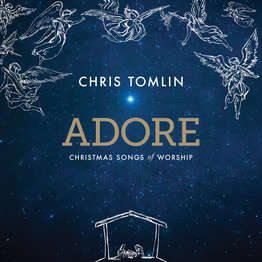 Favorite Songs on his new album Adore:  "Adore", "Noel",
"A Christmas Alleluia", and "He Shall Reign Forevermore"
ADORE: Christmas Songs of Worship features Lauren Daigle and All Sons & Daughters. With over 5.7 million albums and 9.1 million digital tracks in career  sales, it's estimated over 30 million people sing the songs of GRAMMY® winner Chris Tomlin each week.