LOS ANGELES, Calif.–Cinedigm (NASDAQ: CIDM) announced today a deal with Christian comedian, television host and author Chonda Pierce to host three one-hour episodes of Chonda Pierce Presents: Stand-Up For Families which is expected to premiere exclusively on Cinedigm's DOVE CHANNEL in late March leading up to Easter.
Chonda Pierce, often billed as "The Queen of Clean," will bring her trademark combination of fierce wit and southern charm to the family-friendly episodes.  Chonda Pierce Presents: Stand-Up For Families will be designed for families to safely enjoy together without worrying about offensive language or subject matter.  In addition to Pierce's opening monologue, each episode will feature four different clean comedians performing individual sets.  Like all content on Dove Channel, the series will carry The Dove Foundation's Seal of Approval.
Since its launch on September 15, 2015, Dove Channel has rapidly generated over 380,000 installations on Android, iOS and Roku, and is also available on Amazon's Streaming Partners Program. With more than 130,000 registered users and an estimated 20,000 active subscribers already, Dove is gaining strong momentum as the premiere streaming channel for faith and family audiences.   In addition to the Dove Channel, Cinedigm also operates streaming channels CONtv and Docurama.  In aggregate, Cinedigm's channels have over 1.6 million downloads and 230,000 registered users, growing over 45% and 277%, respectively, since the end of the last quarter, September 30, 2015.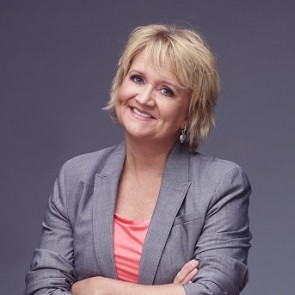 Chonda Pierce Presents: Stand-Up For Families is the first of a new original programming initiative launched by the network.  Dove Channel is planning to green light several series, both scripted and non-scripted, to premiere on the channel over the next year.
"We are delighted to team up with the gifted Chonda Pierce to create and deliver a fun yet clean comedy series that will appeal to audiences of all ages," said Bill Sondheim, President of Cinedigm Entertainment Group. "This series marks the next step for Dove Channel, as we ramp up our slate of original productions, and we are excited and proud to be taking that step with Chonda, who understands our Dove audience and brings with her a devoted fan base."
"It's not always easy to find good, clean comedy," said Pierce. "So I am proud to partner with Dove Channel and recruit some of my favorite comedians to help put together a show that will be funny but also reflect positive values."
"Chonda's laser-sharp humor and inspirational point of view are right in line with The Dove Foundation's mission of bringing values-based content to audiences, " said Dick Rolfe, CEO and Co-founder of the Wyoming, Michigan based group.  "Her involvement elevates the series and guarantees that it will be smart, funny and appealing to young and old alike."
Executive Producers are Pierce and her manager, Andrew Tenenbaum of Creative Management and Productions, along with Bill Sondheim and Yolanda Macias of Cinedigm.  Stephen Yake, whose credits include the stand-up special, "Chonda Pierce: I'm Kind of a Big Deal" is the director.   The episodes will be filmed at the Contemporary Music Center, in Brentwood, Tennessee, in front of a live audience on February 11th and 12th, 2016.