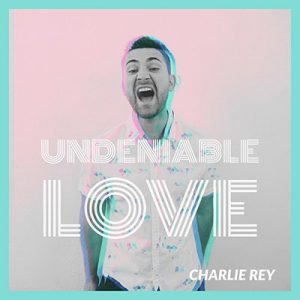 Nashville, TN (May 21, 2019)
Artist and songwriter Charlie Rey debuts his brand new single today titled "Undeniable Love." The song is available everywhere now.
Rey was initially discovered in 2013 when he appeared on season 3 of NBC's The Voice. Becoming a finalist on Blake Shelton's team led him to experiences and opportunities he'd never imagined, from being mentored by Shelton, performing with Michael Bublé, and even singing his own rendition of the Journey hit "Send Her My Love" for band member and the song's co-writer Jonathan Cain.
Fast forward to 2019 and Charlie Rey is ready to share new music with his loyal fanbase while also obtaining new fans with his catchy tune "Undeniable Love." Co-writing the song with Josh Bronleewe (Danny Gokey, Natalie Grant) and Tony Wood (Reba McEntire, Steven Curtis Chapman), "Undeniable Love" is surely going to be a top tune for the summer with its infectious melody and inspiring lyrics.
"Undeniable Love" was written because of Rey's desire to make music that is both relevant and accessible for all ages. He recently shared, "There is clean music that is relevant, but not nearly enough. We need to have music available that is good for the soul and spirit, but that can only come with relevance."
Check out a preview/teaser video for the song here:

Since first appearing on The Voice, this California native got married and he and his wife now have two young children, which is a part of their journey that started off differently than most new parents-to-be. During the pregnancy of their first child, Rey was diagnosed with Transverse Myelitis, a neurological disorder affecting the spinal cord. But before his official diagnosis, he was dealing with temporary paralysis and endless doctor appointments, which kept him wheelchair-bound for three months. Initially being told he may have Multiple Sclerosis or a tumor in his spinal cord, his wife went into premature labor at just six months of her pregnancy and Rey had to drive her to the hospital immediately, while he was partially paralyzed.
Rey explains, "I was devastated with where life was, and I asked God why this was happening. Was I being punished for my past mistakes? I heard God say to me, 'breathe.' So I stopped, started to breathe, and asked God to show Himself at that moment and I would dedicate every inch of my life to serving his purpose, whatever that may be. The doctor came in and said everything was going to be fine. When I got in the car to drive us home, I suddenly felt the gas pedal under my foot for the first time. Miraculously, I was starting to heal. God answered my prayer. I knew I had to uphold my promise, I just didn't know what that entailed."
Charlie Rey now knows his calling—to write and record music in the faith-based community, and he is beyond ready to share "Undeniable Love" with the world. With more music slated to release in the coming months, he has plans for a full album as well.
Visit www.CharlieRey.com