NASHVILLE, Tenn.—It's been a remarkable 2015 for Centricity Publishing, which saw the company win numerous awards and enjoy chart-topping hits from its impressive roster of songwriters. The boutique firm represents such strong talent as Seth Mosley, Lauren Daigle, Jason Gray, Unspoken, Aaron Shust, Jonathan Lee, Carrollton, David Myers, Jonny Diaz, along with new signees Jordan Feliz and JJ Weeks.
In Spring 2015, Centricity Publishing won 2014 Publisher of the Year at SESAC's Christian Music Awards. At the same time, one of Christian music's most sought after producers and songwriters, Seth Mosley, took home the top honor as Songwriter of the Year for such major radio hits as "Fix My Eyes" (for King & Country), "He Knows My Name" (Francesca Battistelli), and "Start A Fire" (Unspoken). He also wrote six No. 1 songs this year and received his first GRAMMY Award as producer for Best Contemporary Christian Music Album, Run Wild. Live Free. Love Strong (for King & Country). Mosley became the top award winner at the 46th Annual Dove Awards in October, taking home four trophies for Songwriter of the Year (non-artist), Producer of the Year, Pop/Contemporary Album of the Year (Run Wild. Live Free. Love Strong – for King & Country) and Inspirational Album of the Year (Above It All—Phillips, Craig & Dean).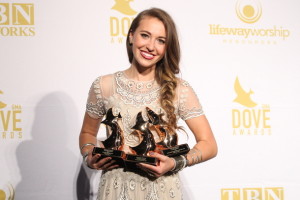 Lauren Daigle was another high-profile winner in 2015 as a songwriter and performer. Her latest single, "First," stayed at No. 1 for three weeks on Billboard's National Audience Chart (NCA), and her album, How Can It Be, debuted at #1 on the Billboard Top Christian Albums Chart. She also won three Dove Awards for New Artist of the Year, Song of the Year and Pop/Contemporary Song of the Year.
Jordan Feliz is the new breakout songwriter for Centricity Publishing as his debut single, "The River," has remained No. 1 for seven weeks on Billboard's Hot AC/CHR Chart. His first Centricity album, Beloved, released in October and features six new songs written by the talented artist.
Additional highlights of the year include outstanding charting singles from Unspoken ("Good Fight," "Call It Grace"), Jason Gray ("Glow In The Dark"), Carrollton ("Let Love Win"), Jonny Diaz ("Breathe") and High Valley ("Make You Mine," "She's With Me").
"What an amazing year it's been for our talented group of songwriters and artists," says Chad Segura, Vice President, Centricity Publishing, "We are so proud and honored to get to work with each and every one of them. As 2015 winds down, we find ourselves reflecting back and being incredibly grateful, and at the same time, we're inspired and challenged to do our part to make 2016 even better!"