Franklin, TN (August 14, 2019)
As an independent record label dedicating their efforts to uniquely invest in their artists and songwriters, those efforts continue to pay off again and again for Centricity Music. Achieving multiple GRAMMY Awards®, GMA Dove Awards®, and chart-topping hits in just the past couple of years alone, Centricity Music has another reason to celebrate with the unprecedented achievement of having two No. 1 radio singles on multi-genre charts this week. Lauren Daigle's "You Say" tops Billboard's Mainstream Adult Contemporary Chart for the second week in a row, while "Reason" from the band Unspoken grabs No. 1 on the Christian Audience chart.
Daigle's "You Say" has been on the Billboard Hot Christian Songs Chart for an astounding 55 weeks. The song is being promoted in partnership with 12 Tone Records/ Warner Records. "You Say" is the first single from her multi-award-winning and RIAA® Gold-certified sophomore album, Look Up Child.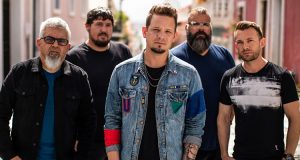 "Reason" from Unspoken is the debut single and title track from their latest project, which released earlier this summer. The hit song is the band's 9th top ten career hit for the band.
"I am so proud of the achievement from Lauren Daigle and Unspoken," shares Steve Ford, General Manager, Centricity Music. "First, both Lauren and Unspoken have delivered timeless songs that massive amounts of people are responding to, and secondly, all of us at the label are so proud the hard work these radio teams have given these songs. I believe these artists and songs truly show the diversity of what we are trying to accomplish at Centricity, and we are so honored to support our artists' unique calling on their lives."