Artist Name:
Erica Bostick
Age:
31
Genres:
Alternative Pop/Soul/Modern Worship
Hometown:
Cincinnati, OH
Label:
Independant
Hobbies/Interests Apart from Music:
My husband and our 2 girls. Worship leading. Artist Promotion. Writing.
Last Netflix Binge:
This Is Us and the Marvel movie collection
Musical Influences:
My bluegrass/country upbringing has stuck with me and has been blended with a love for gospel and soul music. I am inspired by cross-genre, Christian artists like Israel Houghton, Sarah Reeves, Jonathan McReynolds, Phil Wickham, Evan & Eris as well as many pop & R&B artists like Halsey, NAO and Khalid.
Very First Musical Purchase:
It was probably a Stacie Orrico or Bethany Dillon album – I had their CDs on repeat when I was young. 🙂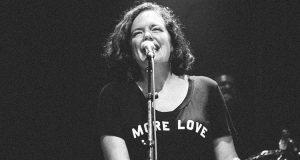 CCM: If you had only five words to describe your new album, it would be…?
Erica: a journey, healing, authentic, hope-filled, groovy. Do you have a favorite song from the new album? Why? My favorite song off the album would be Radiant, I think. It was written more recently and is the style and vibe I want to keep pursuing through my music. It's also really fun to sing. 🙂
CCM: What led you to pursue a career or ministry in music?
Erica: I met Jesus very young and was completely captivated by Him. It didn't take me long to want everything in my life to be about and pointed towards Him. So, when I started discovering my love for songwriting and performing around 10 or 12 years old—it was a no-brainer it would be for Him as well. It's all I've really ever wanted to do. I had a few twists and turns in my journey, mostly due to my own fear of disappointing family and failing, but I never stopped pursuing music and sometimes still can't believe I get to do it for a living now.
CCM: Do you remember that moment when you realized you wanted to make an actual career out of music?
Erica: There was a defining moment in college. I was a year and a half into the PharmD program, something I began because my dad really wanted it for me. I came to a bit of a crossroads and realized I had to choose—live life to please my dad and other people, or make the decision to follow Christ and the calling I felt on my life no matter the cost. I chose Jesus. So, I called my dad up and told him I would still finish school but I was changing majors, I loved him, and I hoped he could support me. He doesn't have a relationship with God and didn't understand my decision, but stood behind me nonetheless. And, from that day I began trying to follow God into this music journey as best as I could.
CCM: What are your hopes for the new project?
Erica: This album is a collection of songs written during some very difficult years for me as I battled, let God into all the spaces, and worked to overcome a life-long struggle with anxiety and fear. Each song tells a piece of my story and God's faithfulness along the way. So, my sincere hope for this project is that it would bring healing and freedom for anyone listening who have struggled in the same or different ways as God has done for me. I hope it draws every listener closer to the heart of Jesus.
CCM: If you could potentially tour with any other artist or band (that you haven't already), who would you choose and why?
Erica: Sarah Reeves. I first was given her album 10 years while I was working in Nashville and became an immediate fan. I've followed her journey ever since then, always inspired by her writing and persistence to release a different sounding type of worship. It would be a dream and honor to tour alongside her.
CCM: What was the last song you listened to on your playlist or stereo?
Erica: "Glory" by Evan & Eris
CCM: What was the last book you read?
Erica: I'm currently reading The Book of Mysteries by Jonathan Cahn. The last book I finished was Oh Crap! Potty Training by Jamie Glowacki. (Mom life… Haha 🙂
CCM: If you could tell the world about another artist/band to check out, who would it be?
Erica: DOE and Evan & Eris—They're some new favorites of mine and have such a sweet new sound.
CCM: What has been interesting to you musically lately?
Erica: Perhaps something new to you in terms of listening habits or influences? I've really been inspired by hip-hop and rap lately. These haven't been something I've been super into in the past—but I love the story-telling and vulnerability that is found in a lot of hip-hop and rap. And because of the pacing, there's so much you can say that is hard to put in a traditional lyric or 'easy-to-sing' worship song. I find that genre also says things that we're often afraid to say in other genres and that is also inspiring to me.
CCM: Name a song that you wish you'd written (and why).
Erica: "PEACE" by Hillsong Young & Free. I connect with the lyric so much it feels like I could have (and should have) written it. It's a beautiful song that really gives light to the true struggle of anxiety but at the same time, the hope and life that we have in Jesus even in the midst of it.
CCM: How did you arrive at the name of your new album?
Erica: The title of the album is Fire of a Warrior which is also the name of one of the tracks. The song, "Fire of a Warrior," is a prayer that epitomizes my journey so far and the purpose of this album. It's me declaring healing over my anxiety and asking God to give me the boldness I need to share my story and be an agent for other peoples' healing and freedom from their anxiety and struggle as well.
CCM: What can listeners expect in terms of the sound, style and lyrics?
Erica: There some hints of folk, pop and soul that all blend together really nicely with hopeful, authentic lyrics from my heart.
CCM: How important is your faith or spirituality within your music?
Erica: My faith is the foundation of my life and my music. Jesus is the reason I do what I do and will always be. I also want to be accessible to those who don't know Jesus. I want to do what I do with a kind of excellence that draws in every listener no matter what you believe. But, Jesus will always be at the heart of what and why I create.
CCM: What message do you hope listeners will take away from your music, regardless of what they believe?
Erica: Hope. Healing. And, Freedom. I hope they hear an authentic story that gives them the courage to come to Jesus just as they are—a broken mess—and know that there's an abundance of Love to welcome them when they do.